Spring Performing Arts Theatre Schedule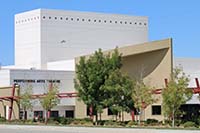 The approach of Spring brings a fresh schedule of events and performances to the Antelope Valley College Performing Arts Theatre in Lancaster. We have a wide variety of events scheduled: concerts featuring stirring classical music and contemporary rock and jazz; modern and ballroom dance performances sure to get your toes tapping, and theatre productions to please all ages, all at affordable admission prices. Not to mention cultural and fashion showcases, recitals and community workshops – many of which are free to the public. If you've never attended an event at our beautiful facility, we invite you to come out and join us – and if you're a returning patron, welcome back! Come and see what we have prepared for you!
The theatre is located on the south side of the Antelope Valley College Lancaster campus, 3041 W. Ave. K. Box office hours are noon to 4 p.m. Wednesday and Thursday and 2 hours prior to each performance. View our full event schedule and purchase tickets online at tickets.avc.edu, or contact the box office at (661)722-6580.