Read to Succeed (RtS) Activities for March 2019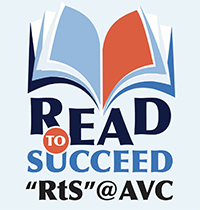 We are excited to announce the RtS Schedule for the month of March. Please, join us, as we continue our discussions on "The Other Wes Moore: One Name, Two Fates" by Wes Moore. Here are the details for March Discussions:
March 4 • 2–3:15 pm Chapters 1–6 (Recap) • SSV 173 (Facilitator: Prof. Tino Garcia - English)
March 7 • 11 am–12:15 pm Chapter 7 • LC 114 (Facilitator: Dr. Kathleen Ringenbach - Psychology)
March 20 • 4–5 pm Chapter 8 • LC 114 (Facilitators: Dr. Danielle McCabe - Psychology & Prof. Linda Parker - Librarian)
To sign up and for your free copy visit http://bit.ly/2wu8BSK. 
To be a part of RtS and pick up your free book or for more details on RtS, contact Dr. Morenike Adebayo-Ige - madebayoige@avc.edu or Dr. Danielle McCabe - dmccabe1@avc.edu. 
Pizza will be served!