AVC Spring 2021 Update
IMPORTANT INFORMATION
The Spring 2021 Semester will be held predominantly through remote instruction online, however, a number of limited courses will be hybrid, blended or face-to-face (see the "modes" defined below). Please check your class "modes" on the schedule of classes on the website. Your instructor will provide individual course details via email prior to the start of the semester. *NOTE: With the uncertainty of the COVID-19 pandemic, the college's plan for Spring 2021 semester may be modified at any time. Updates will be sent via email, website, and social media.
WE ARE HERE FOR YOU! If you need support whether academic, health or otherwise contact info@avc.edu. These are extraordinarily trying times and we are here to help you succeed.
The schedule of classes on the website now reflects the class "modes" below:
The modes of instruction will be designated by the following abbreviations:

DEd

– These are the traditional online sections that typically list only as "ONLINE" on the schedule (also known as asynchronous distance education)

OLI

– These are fully remote instruction lecture classes with specific days and times that will meet via Zoom or other electronic method (also known as synchronous distance education)

HYB

– These are online but meet on campus only for orientation and tests (also known as hybrid)

BLE

– These classes will meet at 50% capacity on campus to ensure distancing protocols. This means that half the class will meet one day and the other half of the class will meet another day. The class also will be supplemented online in Canvas. Some of these include science labs, kinesiology activity classes, CTE labs and some library studies classes (also known as blended)

F2F

– These are 100% face-to-face courses. Some of these will include Auto Body, Welding and Deaf Studies.
Intercollegiate classes will be provided as recommended by the CCCAA and the CCCATA

Health Science classes will follow required outside agency protocols

Public safety classes will follow required protocols
*Note: Please disregard class locations if the class is DEd or OLI.
Academic Support Services:
The Learning Center

Learning Center Tutoring services are available across all disciplines online through our canvas course. 
We offer drop-in tutoring, appointments, workshops & more!

To access our services, enroll now through Canvas by clicking

here

. For more information, contact us at 

learningcenter@avc.edu

.
Information Technology Services
AVC Library: Click

here

for details and see below.

Although the building is closed, the AVC Library is now offering curbside pick-up & return services.

Returns will be accepted Monday - Thursday 8:00am - 3:00pm, at trailer T-400D, located in Parking Lot 14.
Materials can be requested through the AVC Library website under Services for Students OR under the Need Help? Contact Library Staff Here.

Electronic Resources - EBSCO Discovery Service (EDS)

Primo (the library catalog), and other databases

Research support and assistance - subject research guides, tutorials and library workshops to build student research skills, personalized research assistance with a librarian via email

Ask a Librarian, Reference Chat, and scheduled Research Consultations

Limited access via requests to print materials from the Reserve and Book Collections

Circulating books and scanned pages of reserve textbooks are available by filling out a form at this address https://avc.libguides.com/requesthelp. Full request information is available at this link https://avc.libguides.com/c.php?g=1069453&p=7955846. These services are only available at the Lancaster campus at this time.
To contact the library staff, please email libcirc@avc.edu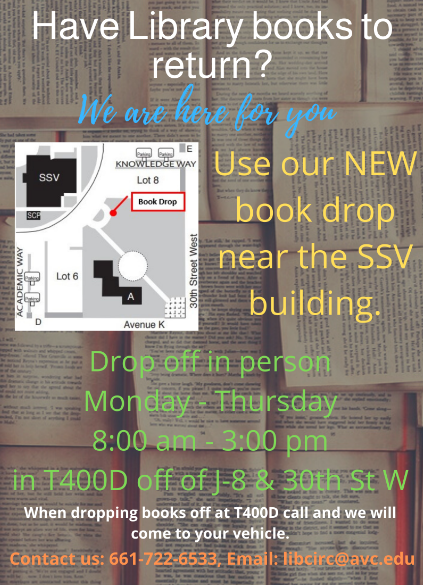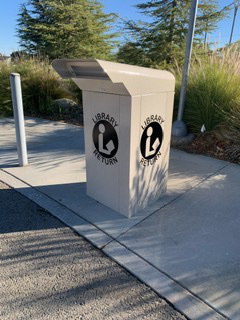 Have Library books to return? We are here for you. Use our NEW book drop near the SSV building. Drop off in person (Monday - Thursday from 8:00 a.m. to 3:00 p.m.) in T400D off of J-8 & 30th St. West When dropping books off at T400D call and we will come to your vehicle (661-722-6533).
 
AVC Library Offers Online Workshops for Students

In addition to the online tutorials and research consultation appointments, the library offers the following online workshops for AVC students:
Developing a Research Strategy and Topic
Finding and Evaluating Articles using EBSCO Discovery Service (EDS)
Finding and Evaluating Books (Print and eBook) using Primo, the AVC Library Catalog.
The workshops are offered online through video conferencing software (Zoom). All you need is a device and an internet connection. Students can use this link to sign up for a workshop: https://avc.libwizard.com/f/workshop_sign_up

After you sign up, you will receive an email with information and a link to your online session.

If you are looking for more detailed research assistance, schedule a Research Consultation with a librarian at: https://avc.libwizard.com/f/RAA. Our librarians will work one on one with you via chat, email, phone, or Zoom. We also encourage you to view our tutorials or online research guides to refresh your library research knowledge and skills with the databases and library catalog by visiting: http://avc.libguides.com.
Student Services: Blended services (some face-to-face and some online; face-to-face services with safety protocols)
All health services, including mental health, will be available for students via online referral contact

StudentHealth@avc.edu

The following services are available face-to-face by appointment and remotely:

The Marauder Market provides drive-up fresh fruits and vegetables on an ongoing basis on the second and fourth Thursday of every month.

Housing services and assistance is available through the Student Life office (email studentlife@avc.edu).


Need Transportation? Apply NOW for our AVC Campus Connect Bus Pass for Spring 2021!
Antelope Valley College has teamed with Antelope Valley Transit Authority (AVTA) and Kern Transit to provide eligible AVC students with bus passes to provide transportation locally and to campus.
The pass is valid on all local AVTA and Kern Transit bus routes for the duration of the Spring 2021 Semester.
*Students are served on a first-come, first-served basis according to each individual's needs and the Student Equity ranking criteria.
STUDENTS MUST APPLY EACH SEMESTER.
Notification regarding approval will be emailed to your AVC email. Please allow a 24-48 hour approval process.
For questions regarding the AVC Campus Connect Program you can reach out to us via the following:

Auxiliary Services:
Marauder Bookstore:

The bookstore will continue to provide online ordering with the choice of curbside pick-up or shipping. You can find course materials, general merchandise and spirit wear to purchase on the website. The Marauder Bookstore is here to support your success. (www.marauderbookstore.com)
 

Curbside Pick-Up:

Once an order has been completed and processed, you will receive a confirmation email that will provide a link to make your reservation for pick-up of your order.

Shipping:

If you choose to have your order shipped, you should allow for three (3) to seven (7) business days for delivery of their order. Shipping will not be free.

Subway:

Food options will consist of pre-order take-out (recommended) as well as limited in-person ordering. There will be limited seating available to meet safety protocols.
Administrative/Support Services (i.e. Human Resources, Payroll, President's Office)

: Blended services/Remote and face-to-face on campus (with safety protocols)
Theater performances: TBD
*NOTE: With the uncertainty of the COVID-19 pandemic, the college's plan for Spring 2021 semester may be modified at any time.
 
Be prepared for online learning with these resources:
ADA Accommodations
AVC's remote/online courses include accommodations for students with disabilities through closed captions or transcripts for videos, alt text for images and color compliance. If you require these or other accommodations, please contact our Office for Students with Disabilities at OSD@avc.edu or 661-722-6300 x6360.
Optimizing Your Remote Learning Experience
To ensure that you have the optimal learning experience, please be sure to review the following resources. Use www.speedtest.net to test your internet speed.
Accessing your myAVC student portal:
Get Ready for Remote/Online Learning:
Valuable Resources for Success Online:
Accessing the Canvas Platform – Student Resources
AVC uses Canvas as a delivery tool for online courses and traditional course materials.