The Fall 2020 Semester will be held predominantly through remote instruction online, however, a number of limited courses will be hybrid, blended or face-to-face (see the "modes" defined below).
Please check your class "modes" on the schedule of classes on the website. Your instructor will provide individual course details via email prior to the start of the semester. *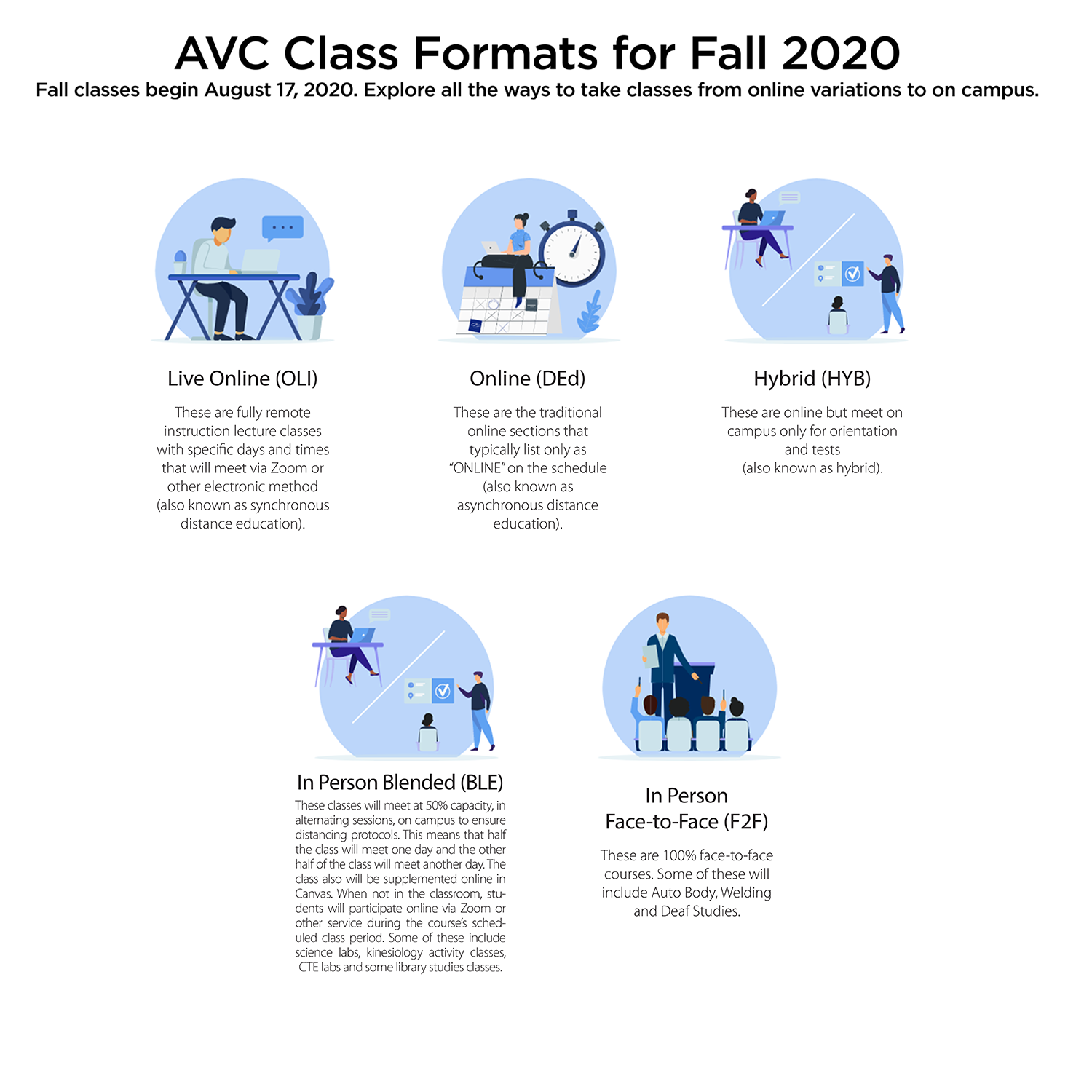 WE ARE HERE FOR YOU! If you need support whether academic, health or otherwise contact info@avc.edu. These are extraordinarily trying times and we are here to help you succeed.
The schedule of classes on the website now reflects the class "modes" below:
The modes of instruction will be designated by the following abbreviations:

DEd

– These are the traditional online sections that typically list only as "ONLINE" on the schedule (also known as asynchronous distance education)*

OLI

– These are fully remote instruction lecture classes with specific days and times that will meet via Zoom or other electronic method (also known as synchronous distance education)*

HYB

– These are online but meet on campus only for orientation and tests (also known as hybrid)

BLE

– These classes will meet at 50% capacity on campus to ensure distancing protocols. This means that half the class will meet one day and the other half of the class will meet another day. The class also will be supplemented online in Canvas. Some of these include science labs, kinesiology activity classes, CTE labs and some library studies classes (also known as blended)

F2F

– These are 100% face-to-face courses. Some of these will include Auto Body, Welding and Deaf Studies.
Performing Arts, Visual Arts, Language Arts, including Deaf Studies, will be offered in a variety of modalities; students should contact their instructors for details

Intercollegiate classes will be provided as recommended by the CCCAA and the CCCATA

Health Science classes will follow required outside agency protocols

Public safety classes will follow required protocols
*Please disregard class locations if the class is DEd or OLI.
NOTE: With the uncertainty of the COVID-19 pandemic, the college's plan for fall 2020 semester may be modified at any time. Updates will be sent via email, website, and social media.