Giving Opportunities: Endowments
An endowment is established with a minimum of a $10,000 gift to the Foundation by a donor for either a scholarship or other student and/or college support.  This initial gift stays in perpetuity and the interest generated is used to support the donor's request.  The endowed accounts are invested in long-term investments, such as stock, equities, and bonds.  The Foundation's spending policy sets forth guidelines for determining how much of the endowed earnings may be spent.
---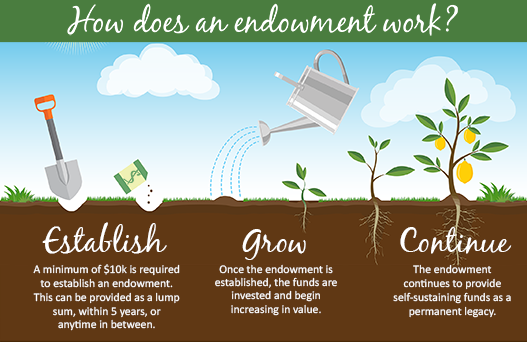 Endowments 101 – why endowments are important to you, the students and the college.
Q.  What is an endowment? 
A.  An endowment fund is a permanent, self-sustaining source of funding. Endowment assets are invested. Each year, a portion of the value of the fund is paid out to support the fund's purpose, and any earnings in excess of this distribution are used to build the fund's market value. In this way, an endowment fund can grow and provide support for its designated purpose in perpetuity. When you establish an endowment fund, you create a permanent legacy of support for Antelope Valley College.
Q: How much money does it take to start an endowment?
A: The AVC Foundation Board of Directors requires a minimum of $10,000 to fund an endowment. This can be provided as a lump sum or within 5 years or anytime in between.
Q: What else does it take?
A: An endowment agreement. This agreement between the donor and the Foundation permanently defines the purpose of the fund. These funds can be used for scholarships, programs or unrestricted support.
Q: Whose name is on the endowment?
A: You can name an endowment for yourself, your family, your friend, your favorite professor, your company – the choice is yours.
Q.  How much can I spend each year?
A.  The Foundation Board of Directors, sets the policies and procedures for the spending limit. To ensure that your original investment or corpus stays at the corpus level, we limit the spending to 5 percent per year.
Q.  Are there any management fees?
A.  Yes. The endowment funds are invested by Miracle Mile Investments and the Foundation assesses 2 percent per endowment to offset the cost of the Miracle Mile Investments fees and our time to manage the endowments.  This is a community college standard.
Q:  Can I meet the students who benefit from my scholarship endowment?
A:  In most cases, yes. Each year, the Foundation hosts a Meet and Greet celebration in May to bring together scholarship recipients and donors.
Q.  Why should I invest?
Community colleges now represent the largest single sector of American higher education, with 1,132 accredited two-year colleges enrolling 8 million students for credit and another 5 million for noncredit courses. They enroll nearly half of all U.S. undergraduates, and about half of all students at four-year colleges and universities attend community colleges prior to earning their degrees. Our community college is making a difference.
You will be part of preparing our local students for the workforce.
You will provide needed resources that are not state funded to continue student success.
You will create a tax deductible legacy.
You would help the college do more with less. Community colleges receive less state support per student than four-year schools.