New Student Services Building Grand Opening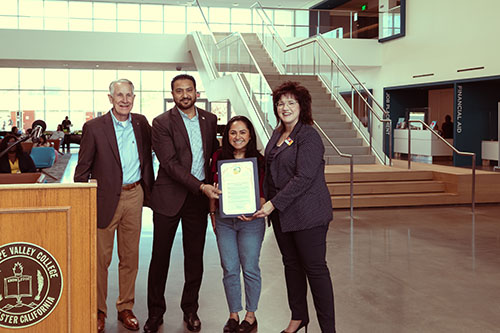 Antelope Valley College Superintendent/President Jennifer Zellet (right), accepts a proclamation during the Grand Opening of the new Student Services building.
Antelope Valley College officially unveiled its new, two story, 61,882-square-foot Student Services Building to the community today during a grand opening ceremony on April 10, 2023.
The Antelope Valley College Board of Trustees, Superintendent/President Jennifer Zellet, PhD, ASO President Diana Ferrassoli, and several offices of local, state, and federal representatives, were joined by students, faculty and staff to officially unveil the new building, and tour the new facility.
"This is an exciting time for Antelope Valley College and our entire community," Dr. Zellet said. "I am particularly happy for our students, because they are the ones who will benefit most from having a brand new building that houses so many of the key programs and services they rely on in order to be successful."
"I want to thank all of our community members, especially those who supported Measure AV in 2016, which was pivotal in funding this project. This is an investment in our students and community that will undoubtedly pay great dividends for generations to come. Thank you!"
The building is the new focal point of AVC, with an alluring architectural design by Gensler, and state-of-the-art build features. It was designed as an inviting entryway for students and the greater community to access the campus.
It houses many of AVC's major programs and services, including Admissions and Records; Assessment Center; CalWORKS; Career Center; Cashier's Office; Counseling; EOPS; Financial Aid and Scholarships; Job Placement Center; Office for Students with Disabilities; Student Transfer Academic Retention (STAR); Transfer Center; Transcript Office; Veterans Resource Center; and Welcome Center/Outreach.
The building was funded by the $350-million 2016 Measure AV Bond, which has funded other key construction and renovation projects at AVC.