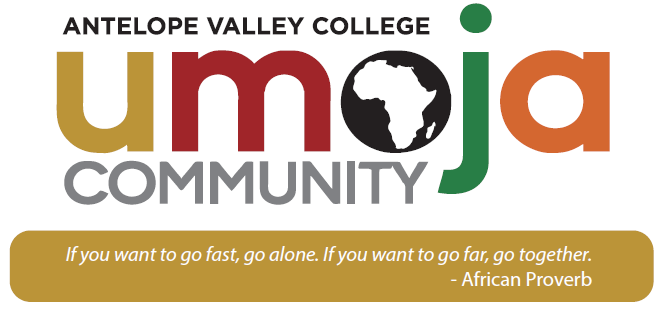 Umoja (a Kiswahili word meaning unity) is a learning community dedicated to African Americans and other students' academic success, personal growth, and self-actualization. African and African American intellectual, cultural, and spiritual gifts inspire all Umoja values and practices.
Click here to learn more: Umoja Practices
What are the benefits of participating in AVC's Umoja Scholars program?
Access to priority registration
English courses that focus on the African American experience
Support from Umoja counselors who help plan your academic pathway
Professional mentorship
Transfer Guidance: Personal essays, letters of recommendation, scholarships, etc.
Motivational, cultural, and career workshops/activities
Community engagement
Participation in Umoja state-wide events
Program Requirements
Attend Umoja Orientation - online (for more information see below)
Meet with a Umoja counselor once a semester
Attend at least two Umoja events per semester
If you are a first-time student, we highly encourage you to take a designated Umoja course (see below)
Application Process
Complete Umoja Scholars Interest Form
After you have completed the interest form, you will be contacted by one of the Umoja Coordinators with more information about the Umoja Orientation
For more information or questions, please email avcumoja@avc.edu