Douglas D-558-II Skyrocket

Dimensions
Height: 12 feet, 8 inches
Length: 42 feet
Wing span: 25 feet
Launch weight: 15,266 pounds
Propulsion: The craft at AVC used both a rocket engine and a turbojet engine.
History
Antelope Valley College is home to a Douglas D-558-II Skyrocket, representing the rich legacy of aircraft testing and development in the Antelope Valley.
This plane is a sister to the Skyrocket that made aviation history by becoming the first airplane to fly twice the speed of sound November 20, 1953. A. Scott Crossfield piloted the record-setting plane.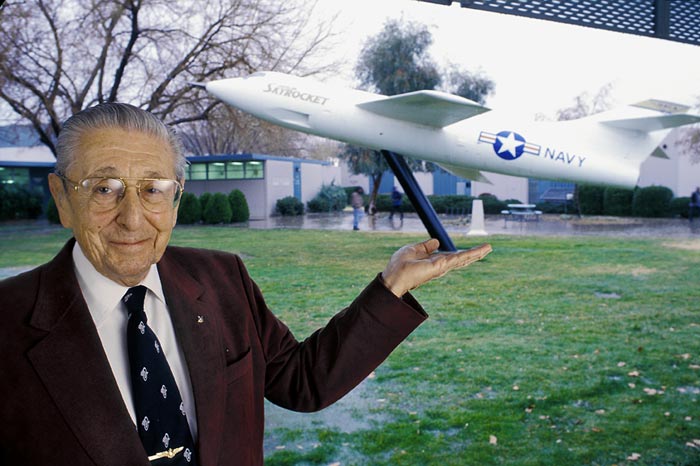 Scott Crossfield & Skyrocket. Photo by Chad Slattery
Skyrockets were used in flight tests from 1948 to 1956 at what is now Edwards Air Force Base, located a short distance from the college campus.
There are only three Skyrockets in existence. The craft at Antelope Valley College, NACA 145, flew 87 missions. Another Skyrocket is in the Smithsonian Institution's National Air and Space Museum in Washington, D.C. and the third is at the Planes of Fame Museum in Chino, Calif.
Alden B. Carder, manager of flight test for Douglas Aircraft Company, was among several people instrumental in getting the Skyrocket donated to AVC in 1963.
The Skyrocket carries the National Advisory Committee for Aeronautics (NACA) insignia. NACA was the predecessor to the National Aeronautics and Space Administration.
Related Links