Dreamers Center Presentation Sign-Up 2022/2023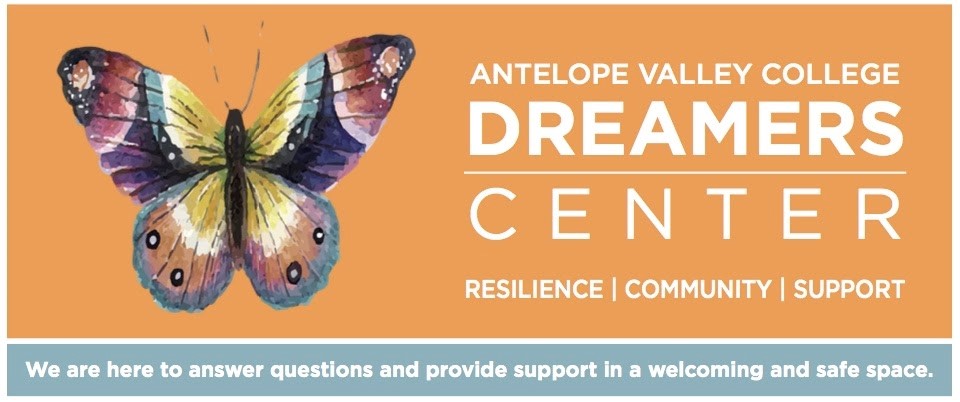 Antelope Valley College Dreamers Center
Our mission is to serve all undocumented students at Antelope Valley College and the community with information and resources to promote college admissions, persistence, graduation, transfer, and careers.
Services:
California Dream Act Information and Assistance

Scholarship Resources for Dreamers

Deferred Action for Childhood Arrivals (DACA) Information and Referrals

Workshops

Academic and Career Guidance

Confidential and Supportive Environment
Location: The HUB
Free immigration Legal services for all students, staff, and faculty.
Antelope Valley College, in collaboration with the Dreamers Center and the United Farm Workers Foundation (UFWF), is offering free immigration legal services to all students, staff, and faculty members of the college. These services include immigration consultations, assistance with DACA applications and renewals, family petitions, adjustment of status, visas, and more.
To schedule an appointment, please visit https://findyourally.com
STAFF AND CONTACT INFORMATION
Kenya Johnson, Associate Dean Outreach Services & Student Support -Dreamers Center
Email: kenya.johnson@avc.edu
Phone: (661) 722-6300 ext. 6331
Raul Alanis Romualdo, Program Specialist
Email: raul.alanisromualdo@avc.edu
Phone: (661) 722-6300 ext. 6313
Kimberly Castillo, Counselor-Dreamers
Email: kcastillo4@avc.edu
Phone: (661) 722-6300 ext. 6313
Schedule a Presentation
Community members, K-12 teachers, counselors, and administrators wanting to schedule a Dreamers Center presentation for your students please click the corresponding Sign Up button below to submit your request.
Once we receive your request we will contact you to further coordinate the details. We look forward to building a relationship with your students and promoting the many programs and opportunities available for undocumented students here at Antelope Valley College. Go, Marauders!
Dreamers Center Presentation (Sign Up Below)
UNDOCUMENTED STUDENTS FAQs
If I am undocumented, can I go to college?
Yes, you can go to any college or university in California, if you meet the admissions requirements.
You cannot be denied admission based on your immigration status to any state school in California.
You can pay in-state tuition if you meet the criteria for state law AB 540.
If I am undocumented, can I receive financial aid?
As an undocumented student, you may currently qualify for state financial aid. The California Dream Act, divided into AB 130 and AB 131, provides access to private funding in the form of scholarships and state aid, specifically the California Cal Grant, for those who qualify
What does Non-Immigrant mean?
Students with current nonimmigrant visas are not eligible for this tuition exemption (exp. Tourist (F Visa) or student (B Visa).
A student whose visa has expired and is now out of status will be eligible for in-state tuition fees if they meet their state undocumented stated requirements.
Students categorized as AB 540 (undocumented) will not be classified as California residents.
A student with any legal status is not considered undocumented.
What are AB540 facts?
AB540 does not apply to private colleges or universities unless they decide to abide by the set requirements.
AB540 does not grant legal residency to qualifying students.
AB540 does not grant state or federal financial aid.
AB540 only provides an exemption to the requirements of paying nonresident tuition for students who qualify.
What are the AB 540 requirements?
Student must have attended a high school in California for three years or more.
Student must have graduated from a California High School or attained the equivalent of a high school diploma (i.e. passed the GED or CA High School Proficiency Exam).
Student must register or be currently enrolled in one of the three state institutions of higher learning (UC, CSU, Community Colleges).
Student without Immigration status must file an affidavit with the public college or university stating that he or she has applied to legalize his or her legal status or will do so as soon as he or she is eligible to do so. (Some private schools may also require this, not enforced)
All information provided by the student will be kept confidential by the college or university.
Does filing an AB 540 affidavit impact my California Legal Residency?
AB 540 does NOT establish legal residency for immigrant students or for undocumented students who are eligible for AB 540. It only exempts students from paying non-resident fees. Undocumented students who have questions about their legal residency should consult an immigration attorney.
Is My Information Private?
The information a student shares with a college or university is protected by federal law and CANNOT be shared with anyone, including immigration officials. It is protected by the federal Family Educational Rights and Privacy Act (FERPA) of 1974. The school legally cannot share this information with third parties including the Department of Immigration and Naturalization (INS), now the Immigration and Customs Enforcement (ICE).
Also, not all AB 540 students are undocumented. Many are legal residents. AB 540 forms are worded in a way so as to protect undocumented students from having to declare their status (they are grouped with US citizens and permanent residents). The affidavit says IF they are an alien without lawful immigration status, then they will pursue a means to change their immigration status when it becomes available.
What is the Affidavit?
The affidavit states that the student will adjust their status, as soon as they are eligible to do so.
The affidavit is required for example at end of document law by the public college where the students will be attending.
Students are not required to submit a new affidavit when there is continuous enrollment.
The information on the affidavit is kept confidential, as required by law.
Please click here for the Affidavit, also known as the California Non-Resident Tuition Exemption Request: /sites/default/files/studentservices/adminrec/AB%20540%20-%20NonResident%20Tuition%20Exemption%20Fillable.pdf

What are the differences between the California Dream Act and the Federal Dream Act?
The California Dream Act occurs at the state level. The passage of AB 130 and AB 131 by Governor Brown made The California Dream Act of 2011 an effective law in the state. The law at the state level allows certain undocumented students to apply and receive state financial aid and receive scholarships funded through private donors. On the other hand, the Federal Dream Act seeks to bring conditional residency for qualifying undocumented individuals. Although not yet passed by the United States Congress, some of the stipulations concerning the Federal Dream Act will require applicants to be of good moral character, have graduated from high school, be currently enrolled or completed two years of college or university, and/or have enlisted in the US army for at least two years.
Where do I go to fill out the Dream Act Application?
Students can fill out the Dream Act Application at the following link: https://dream.csac.ca.gov/·

DEFERRED ACTION FOR CHILDHOOD ARRIVALS (DACA) INFORMATION
On June 15, 2012, the Secretary of Homeland Security announced that certain people who came to the United States as children and meet several key guidelines may request consideration of deferred action for a period of two years, subject to renewal, and would then be eligible for work authorization.
Only individuals who can prove through verifiable documentation that they meet these guidelines will be considered for deferred action. Determinations will be made on a case-by-case basis under the guidelines set forth in the Secretary of Homeland Security memorandum.
For information and eligibility requirements, visit the Consideration of Deferred Action for Childhood Arrivals (DACA) site. Source: USCIS.GOV
More DACA resources can be found at www.E4FC.org, and https://unitedwedream.org/, and at www.NILC.org.
CAMPUS LINKS