Commencement 2023 Live Stream

View The 2023 Commencement Program

Congratulations on your graduation from AVC!
Are you expected to graduate with the Fall 2022, Spring 2023, or Summer 2023 class? If so, submit your Graduation Application and 2023 Commencement Card. 

Cap, Gown, Tassels, Stoles and Frames are now available for purchase in the AVC bookstore!
The deadline to submit your commencement card is May 3, 2023 by end of day. Any submissions after this deadline will not receive a ticket code. 
2023 Commencement at Marauder Stadium - May 5, 2023
Gates open at 5:30 p.m.
Graduates must be checked in at the back check in tables no later than 6:00 p.m.
The ceremony will start promptly at 7 p.m.
Guests are prohibited from bringing items including but not limited to: balloons, streamers, inflatables, signs, posters, noisemakers, etc. If a guest brings these items they will not be allowed into the stadium. Please leave celebratory items in the car or at home.
Reminders for the day of Commencement:
Make sure you dress appropriately for the weather. The month of May can be quite warm during the day and windy at night. 

Wear comfortable shoes. Heels may look great but you will be standing for some time and pointed heels will damage our stadium turf.

Hydrate! Don't forget to drink plenty of water and eat before arrival. The ceremony may take a few hours and we want to ensure everyone feels their best. No food will be allowed on the field but we will provide a water per graduate.

Make sure your phone is charged and with you! You will need your phone to register at the check in tables. 

Don't forget your graduate ticket and to wear your cap, gown, and tassel to get in the gate. 

Also, make sure your guests have their tickets as well! We do not have a way to process tickets at the gate. Please ensure your tickets are either downloaded and can be scanned electronically or printed. Do not forget your tickets!

Make sure to arrive in plenty of time. We start promptly at 7pm and you don't want to miss your commencement ceremony!

Graduation Steps
Submit your Graduation Application.

The deadline to submit your Graduation application is April 21, 2023. If you submit your application after this date your name will not appear in the Commencement Program. 

Submit your 2023 Commencement Card.

The commencement card is the information needed for you to participate in the ceremony. Think of it as your RSVP to let us know you will be walking across the stage. If you are getting an error message with the form your device (computer/phone) is remembering a non-AVC email address. Logout of that google account and using your AVC email you will be able to complete the form.
The deadline to submit your Commencement Card is May 3, 2023 by 11:59pm. Submissions received after this deadline will not receive ticket codes. 

To proceed after submitting your commencement card please allow our team 2 business days to process your request before trying to obtain your electronic tickets. 

Obtain your electronic tickets now!

Due to stadium capacity students will receive no more than 5 guest tickets. Children under 4 years of age who can sit on an adult's lap do not need a guest ticket. Guests who are unable to receive a ticket will be able to cheer their graduate on while watching the live stream from the comfort of their home. 
Students will go to the website and add 1 graduate ticket and up to 5 guest tickets to their cart.
Then enter the last 5 of your 900 # as your code. If you are not a verified graduate you will not be able to checkout.
You will need to enter your code twice. Once under the graduate portion and once under the guest portion.
Enter your information and confirm your order. 
Download your tickets and send them to your guests!

Our vendor is not available on the day of graduation to process error codes. Our office will also be closed as of 11:30am and we will no longer be able to assist with ticket errors. We do not have a way to process tickets at the gate so please make sure you have everything either downloaded or printed to ensure your admission to the stadium. 

Monitor your email and the AVC website for important announcements.
Grad Fair has concluded. However, there are many other vendors who can take your graduation photos. Although our on campus opportunity has passed we encourage you to explore alternative options to commemorate this special milestone!
Purchase your Cap, Gown, and Tassel available now in the AVC Bookstore! The items are for purchase in person not online. 
Watch the Commencement Walkthrough Video (see below).
Make sure you and your guests are ready for commencement (read all disclaimers, maps, download electronic tickets, etc.)
Attend Commencement and celebrate your achievements!
If you or your guests would like to order items from the Commencement Group for pick up on the day of the ceremony you can visit their website.
Click here to see their available items.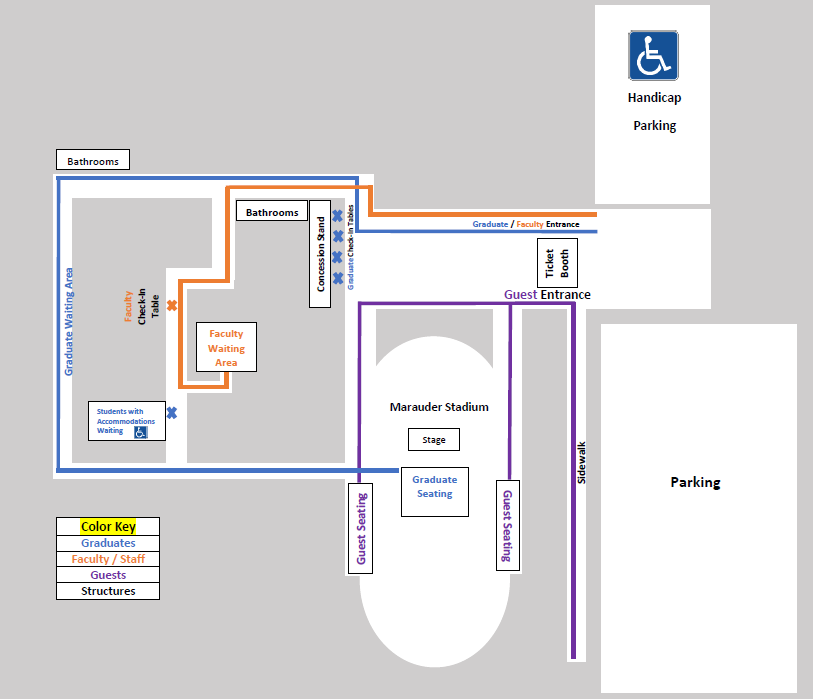 To download the 2023 Commencement Map click here.
 

Further Questions?
If you have any additional questions, you can contact the Commencement team at: commencement@avc.edu.