The Antelope Valley is home to one of the largest density concentrations of STEM related workers in the nation... Read more
UPCOMING EVENTS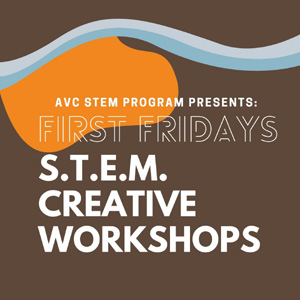 Summer Open Hours: STEM Center (Study Hall) UH 272 & Math Lab ME 100 

Visit our Opportunities page for new Internship options

August 6 - First Fridays AVC STEM:     (register here)

American Institute of Aeronautics and Astronautics (AIAA), LA & LV Section - Calendar of Events
The STEM Office at Antelope Valley College was created to foster the study of Science, Technology, Engineering, and Math (STEM). At AVC, STEM incorporates a fusion of ideas and methods from academic fields to prepare our students to further their education goals and develop creative methods of research for our campus community. Located in APL 121A (STEM Office), APL 115 (STEM Lab) and UH 272 (STEM Center for Excellence), the STEM Department has newly renovated spaces where faculty, staff, and students come together to teach, learn, and connect as a community.
Come in, get help, and find yourself collaborating with new friends.
There are a variety of study sessions available to students enrolled in STEM courses (please check your email for times and days), alternately if you are seeking assistance outside of those scheduled times please complete this form and we will get back to you within two school days.