News and Announcements: 
The spring 2023 application period is now closed.
Applicants are advised of acceptance or non-acceptance via email by early May.    
Beginning summer 2024 student eligibility for admission to the program will be determined by multi-screening criteria (see rubric under program information).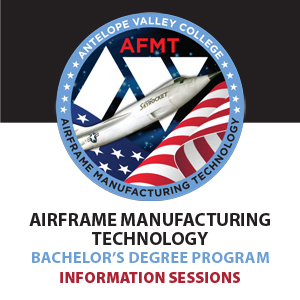 Upcoming In-Person Information Sessions: 
No events are scheduled at this time. Please check back periodically.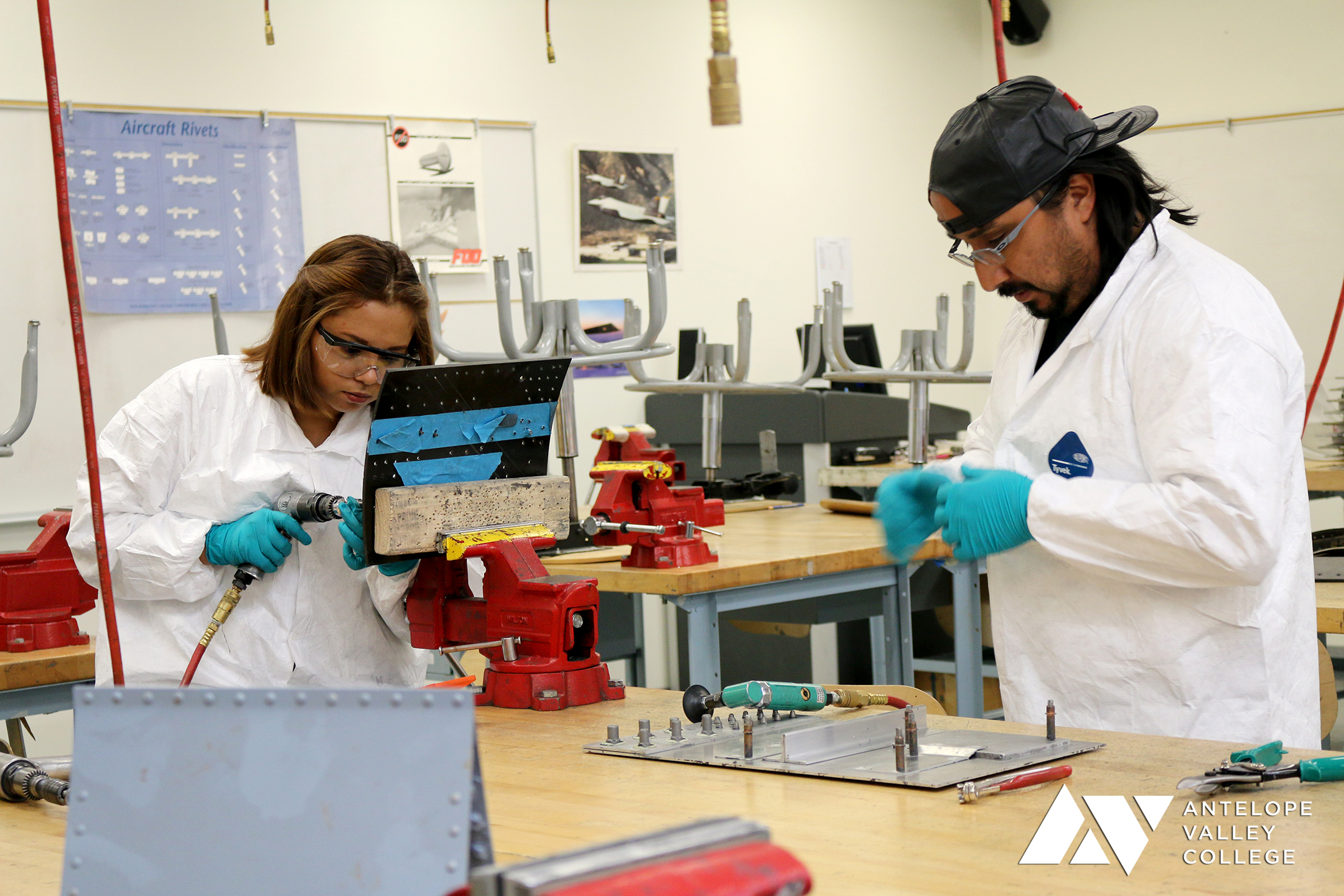 AFMT Program Description: 
AVC's Airframe Manufacturing Technology Program (AFMT) is designed to meet the need in the aerospace industry for multi-skilled individuals who understand, perform, and serve as first-line leads in the major processes of manufacturing the structural components of an aircraft for civilian and military specifications. The program's curriculum addresses airframe manufacturing, aircraft fabrication (structures and composites), and electronics.
The AFMT Bachelors Degree is a one-of-a-kind program specifically designed to meet aerospace industry needs for individuals who serve as first-line leads in the major processes of aircraft manufacturing, with a focus on manufacturing and industrial engineering.
The AFMT program is geared toward students who have completed or are in progress of completing a two-year program in Aircraft Fabrication and Assembly, and who are interested in pursuing a bachelor's degree in Aircraft Manufacturing Technology. Students will enter directly as juniors (3rd-year track students). AVC is very interested in Veterans and people working at locations, such as Edwards Air Force Base.
Program Cost: 
Complete this degree for $11,000 or less! Financial aid and scholarships are available for eligible students admitted to the AFMT Bachelor of Science Degree Program. For more information, please click here for a link to the financial aid department. 
Tuition fees per Education Code, Sections 76300 and 78042, are $46 per unit, plus $84 per unit for upper-division coursework. You may click on each of the section's codes for additional information. 
---
Current Eligibility to the AFMT Program:
Prerequisites for the Airframe Manufacturing Technology Program (AFMT), baccalaureate degree: Completion of the Aircraft Fabrication & Assembly Technician (AFAB) associate degree coursework. In addition, the associate's degree coursework must follow the general education requirements for the CSU system. Students must have a 2.8 minimum GPA in all AFAB courses and a 2.5 minimum GPA in all college courses taken for credit (overall GPA). 
There is currently one track available:
Junior Track (3rd Year Track) - 2 years.

Part-time students must meet with the program AFMT Faculty Lead to discuss progression as part-time students. 
Application Dates for Fall 2023 Admission:
February 1, 2023 - March 31, 2023 

The deadline to apply is March 31, 2023
How to Apply to the AFMT Program: 
Complete the matriculation process. 

Declare your major as Aircraft Fabrication & Assembly Technician - Associate's Degree. 

Complete an Application for Enrollment Form. 

Obtain official college transcripts for all post-secondary institutions attended. "Official" college transcripts must be submitted in a sealed envelope that has not been opened by the student. 

One set is to be turned in with your application and one set should be on file with the AVC transcript office. 

Obtain a copy of your updated Education Plan and Evaluation Form completed by an AVC Counselor or Advisor assigned to the AFMT program. Appointments should be made through email at counseling@avc.edu or by calling (661) 722-6300 ext. 6338, requesting to meet with one of the following: 

Monica Carreon 

Rosa Fuller

Patty King

Submit items 3 through 5 to the Career Technical Education division office, Enterprise Lab, Room 129. Items 3 through 5 are considered your "application packet". You may also mail your application packet to: Antelope Valley College, Attn: Rosie Heasley, 3041 W. Avenue K, Lancaster, CA 93536. 
Note: Application packets are only accepted during the application period.
---
Types of Jobs Obtained with the AFMT Degree:
The types of jobs students will be able to obtain upon graduation are: 
Aircraft Assembler, Airframe/Systems Technician, Composite Fabricator, General Mechanic, Electrical Technician, Industrial Engineer, Manufacturing Engineer, and Multi-skilled Composite Low Observable Technician.  
Location, Day, and Times for Class Offerings: 
The majority of classes will be held at the main AVC campus in Lancaster, with a few classes located at our Fox Field location. Classes are scheduled Monday through Saturday evenings. Please check the AVC Class Schedule for the upcoming dates, times, and locations of our next available classes.
Time to Degree: 
The program will take two to four years depending on the track the student initially chooses. Part-time track students should make an appointment with the AFMT program Faculty Lead to discuss progression as part-time students.
Program Information: