Airframe Manufacturing Technology Program (AFMT)
AFMT INFORMATION SESSION FOR 1st YEAR TRACK STUDENTS: Friday, April 27, 2018, 9:00 a.m. to 10:30 a.m. in HS-103.
Join us! This is a great opportunity to learn more about the program and ask questions. No RSVP required. 
**Application Period Announced for 1st Year Track - See Details Below**
Frequently Asked Questions (FAQs)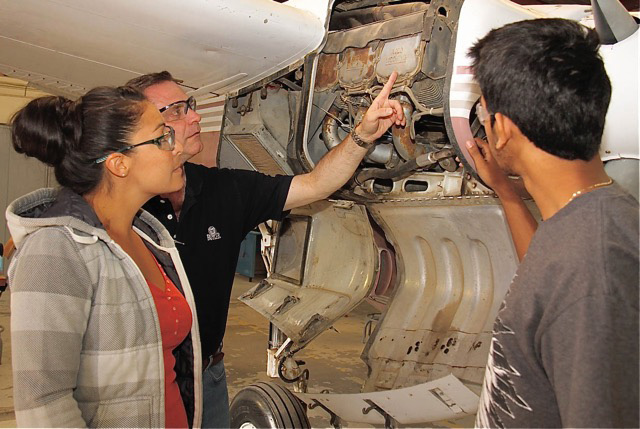 What is the AFMT program?
AVC's Airframe Manufacturing Technology Program (AFMT) is designed to meet the need in the aerospace industry for multi-skilled individuals who understand, perform, and serve as first-line leads in the major processes of manufacturing the structural components of an aircraft for civilian and military specifications. The program's curriculum addresses airframe manufacturing, aircraft fabrication (structures and composites), electronics, and welding.
The Airframe Manufacturing Technology Bachelors Degree is a one-of-a-kind program specifically designed to meet aerospace industry needs for individuals who serve as first-line leads in the major processes of aircraft manufacturing, with a focus on the manufacturing and industrial engineering.
Who is eligible for the program?
The AFMT program is geared for students who have completed a two-year program in Aircraft Fabrication and Assembly, who are interested in pursuing a bachelors degree in Aircraft Manufacturing Technology. Students will enter directly as juniors (3rd year track students). AVC is very interested in Veterans and people working at locations, such as Edwards Air Force Base.
There are currently two tracks available:

Junior Track (2 years)
Freshman Track (4 years)

As of Fall 2017, a new 1st Year Track Program has been implemented for incoming freshmen.
How and when do I apply? 
Note: The dates listed below are for 1st Year Track students only.
The Airframe Manufacturing Technology Program application for enrollment will be available as of Monday, April 23, 2018. Enrollment packets will be accepted beginning April 23, 2018, through May 25, 2018 (Freshman - Only). 
The Application for Enrollment form may be picked up in the lobby of the Technology Building, TE7 as of March 1, 2018. 
Note: The application period for Juniors (3rd year track students) has closed. 
For more information on the admission process, click here.

What is the cost of the program? Is Financial Aid available for this program?
You can complete this degree for $10,000 or less!
Yes! Financial Aid is available.
Please click here for a link to the financial aid department.
What types of jobs will I be able to obtain? Can I get a job at Northrop Grumman?
The types of jobs students will be able to obtain upon graduation can be found here.
Where will classes be held? What days and times are classes offered?
The majority of classes will be held at the Main AVC campus in Lancaster, with a few located at our Fox Field location. Please check the AVC Class Schedule for the upcoming dates, times, and location of our next available cohort.
How long will it take to complete the program?
The program will take two to four years depending on the track the student initially chose.
How can I get more information?
Please visit the Career Technical Education Division Office at TE7-129 or you may call, 661-722-6300 ext. 6327.