Umoja (a Kiswahili word meaning unity) is a learning community dedicated to the academic success, personal growth, and self-actualization of African American and other students. All Umoja values and practices are inspired by African and African-American intellectual, cultural, and spiritual gifts.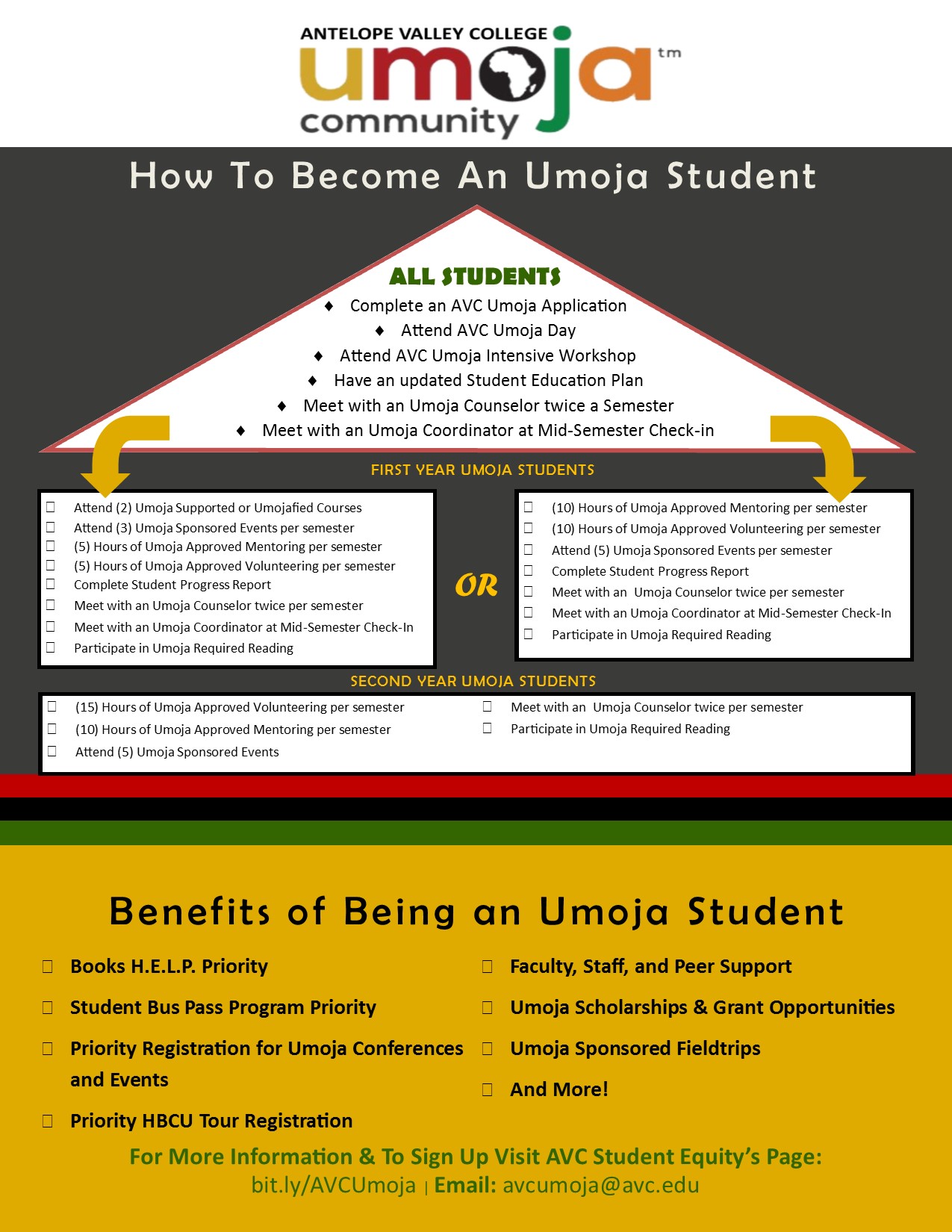 MUST BE AN ACTIVE AVC STUDENT CURRENTLY ENROLLED IN CLASSES.


Sign-up today to be an AVC Umoja Student
If you are interested in being a part of the Umoja Community as a Community Member, please sign up on our interest list.
Visit the Umoja Village
 avc.zoom.us | Meeting ID: 998 0410 2077 or in SSV-187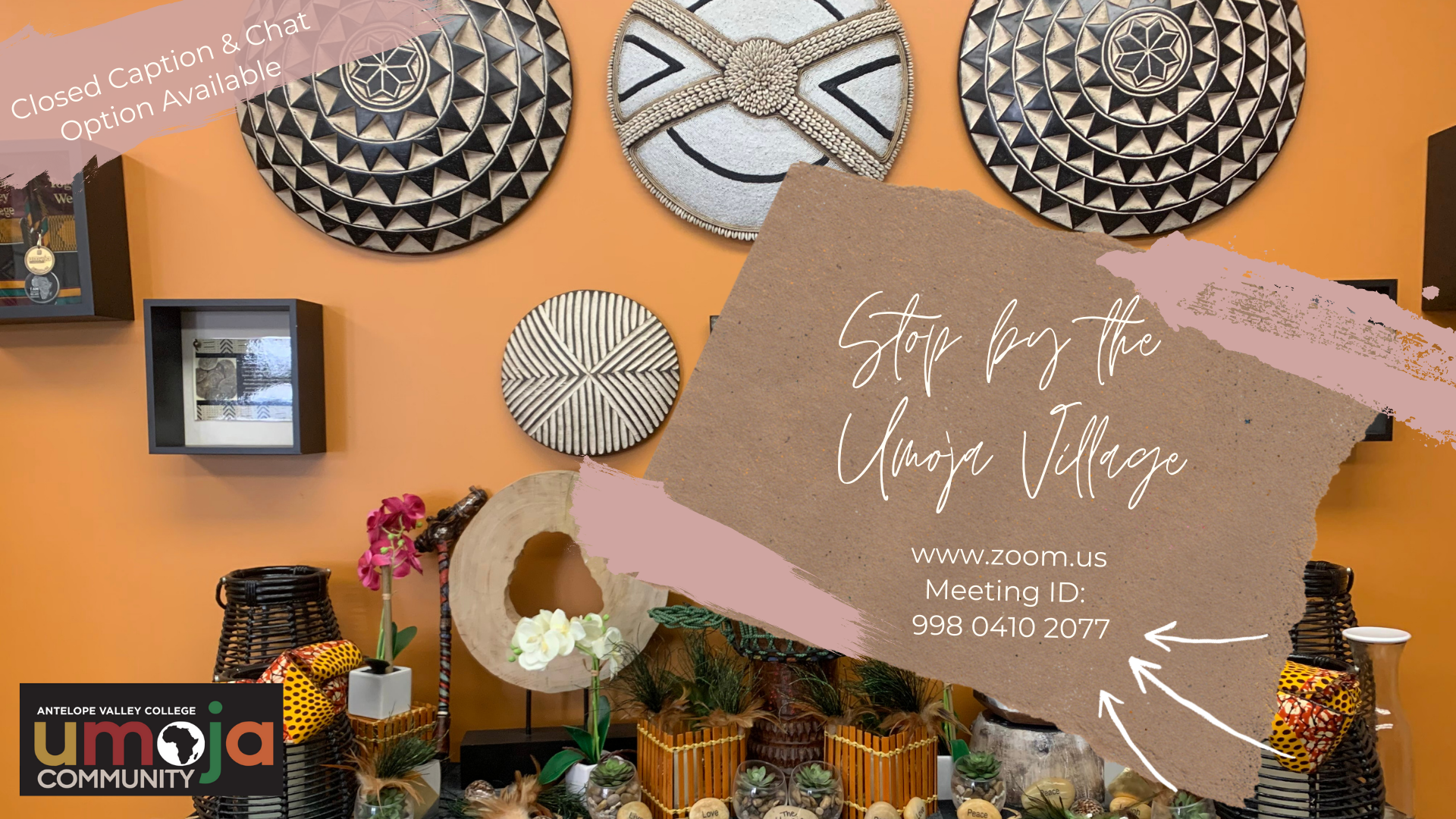 Melanated Movie Mondays | Every Monday | Umoja Village, SSV-187 | On Repeat Throughout the Day
Catch us in the village this semester Showing: Cinematic nostalgia, black creatives in cinema, black production, Black history, Articulation of Black culture, progress, protest, social justice, Movies Filmed at HBCUs, and more!

Write it Right Wednesdays | Wednesdays | Various Times | Zoom & AVC Umoja Facebook Live 
Write it Right Wednesdays: is an 11-week virtual Open Mic series for poets, MCs, singers, and artists alike. Hosted by decorated All Def Poetry spoken word artist, @BrandonAlexanderWilliams.
Authors of the best poems, raps, songs, and short stories gathered from the 11-week series will have the privilege to be published "The Antelope Valley College Artist: Volume Three" anthology. https://avc.zoom.us/j/94192814095
DATES & TIMES:
SEPTEMBER: 14, 21, & 28 | 11:30 AM-12:15 PM
OCTOBER: 5, 12, 19, & 26 | 1:00-1:45 PM
NOVEMBER: 2, 9, & 16 | 2:00-2:45 PM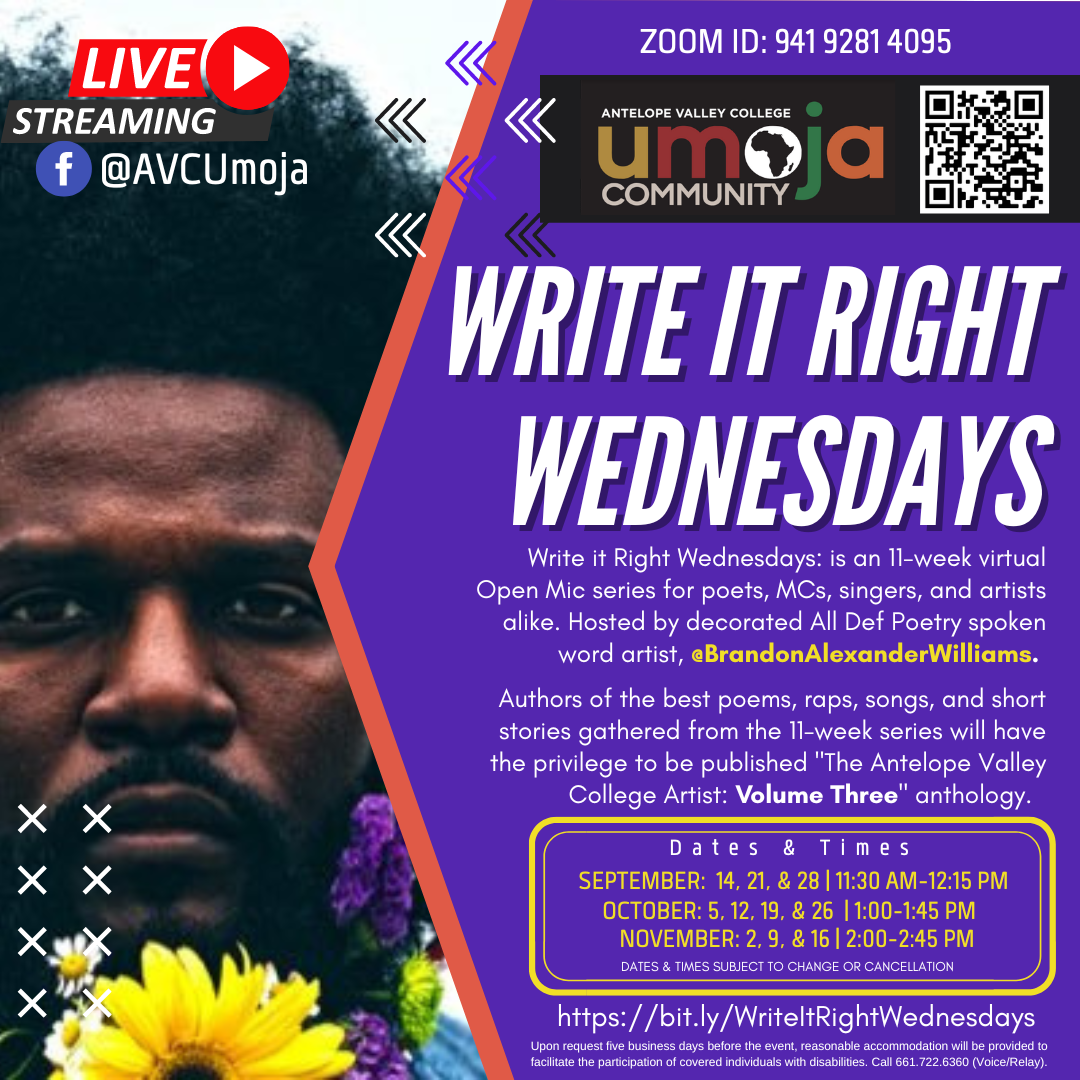 Porch Talk | Every 4th Thurdsay | 12:30-1:30 PM
Building a Sense of Community Using Porch Talks: Throughout history the "Porch" has been used as a place where families and neighbors came together to share what was happening in the community, pass down traditions, tell stories, and just be together as people and build a community through those interactions.
The porch is important because it is the middle ground between private space inside and totally public space on the curb. It lacks the intimacy of the interior, yet it's more intimate than the front lawn since it's one step closer to inside. A porch has the ability to attract a "neighbor" because it's easy to attract conversations when people are walking by. After all, it's not threatening to walk up to a porch to chat for a few minutes since it's a warm and more public place (in contrast to knocking on a door where someone may or may not be wanting visitors).
These porches build a greater sense of connectedness in our communities to overcome obstacles. Not everyone has to be a social butterfly of course, but we do need to individually contribute to the community somehow. We hope you will join us in our AVC Umoja Porch Talks as we build community.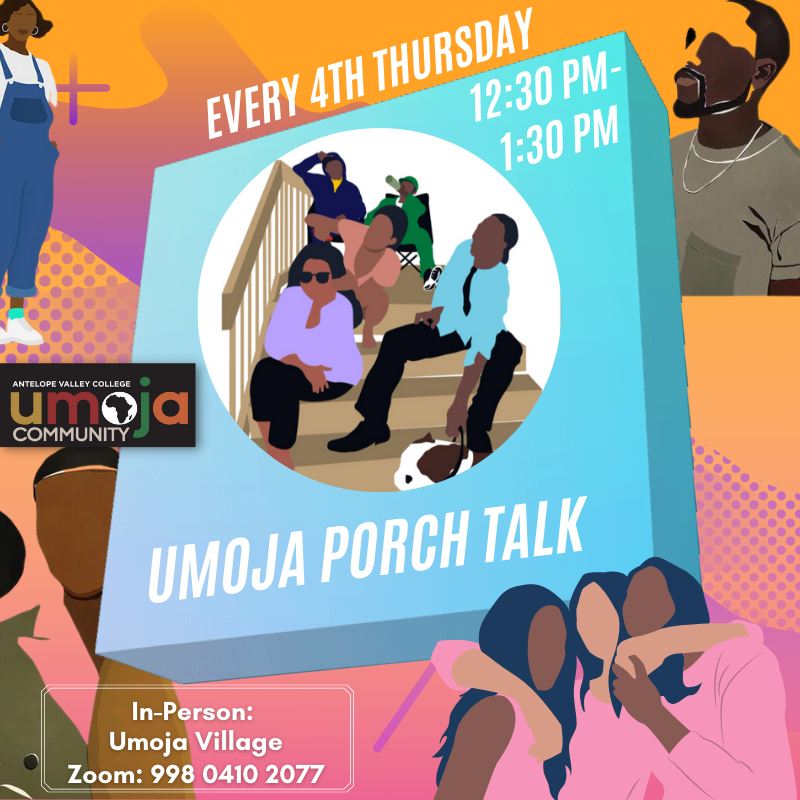 Anxious about the semester? Feeling stressed about classes? Take a moment and let's BREATHE! Learn a new way to cope, re-center, and feel balanced. Live on Zoom with Umoja Counselor, Towana Catley. 
Register once a semester at https://bit.ly/BreathworkF22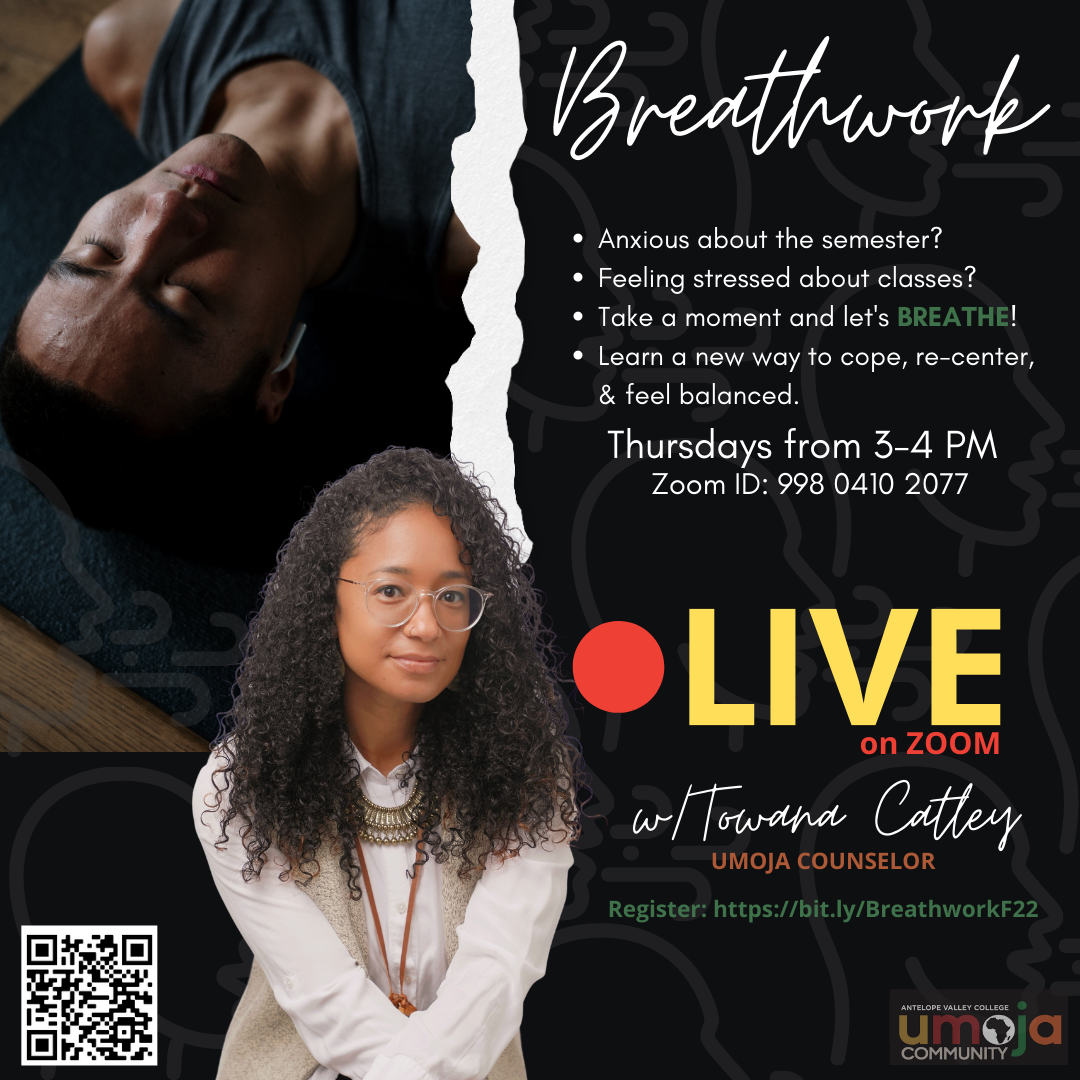 Need an Ed Plan? Need to talk to an Umoja Counselor? No appointment needed hop on Zoom on Fridays and meet with Ms. Towana Catley, Umoja Counselor. 

Please watch your AVC Email to RSVP for other events throughout the semester:
Umoja Career Workshop w/Career Center | Date & Time TBD
Umoja Conference | November 3-5, 2022 
Umoja End of Year Event | November 2022 | Date & Time TBD
HBCU Caravan | November 1, 2022
Umoja Workshops
Umoja Student Trips
Umoja Supported Events:
The Art of Fall | TBD
Fall ReCharge | October 12, 2022
Midterm & Finals Study Jam
& More
HBCU Agreements with California Community Colleges 
Our agreement guarantees admission to 39 Historically Black Colleges and Universities (HBCUs).
Transfer Advantages:
Acceptance of completed transfer-level community college courses

A free single application for up to four participating partner HBCU institutions

A simplified transfer process

Priority consideration for housing when application is submitted by the posted deadline

Consideration for transfer scholarships if you have a 3.2 or higher grade point average (based on funding availability)

Pre-admission advisement
For more information, please visit: https://www.californiacommunitycollegehbcutransfer.com/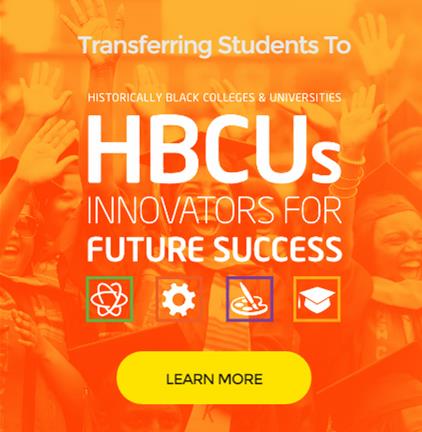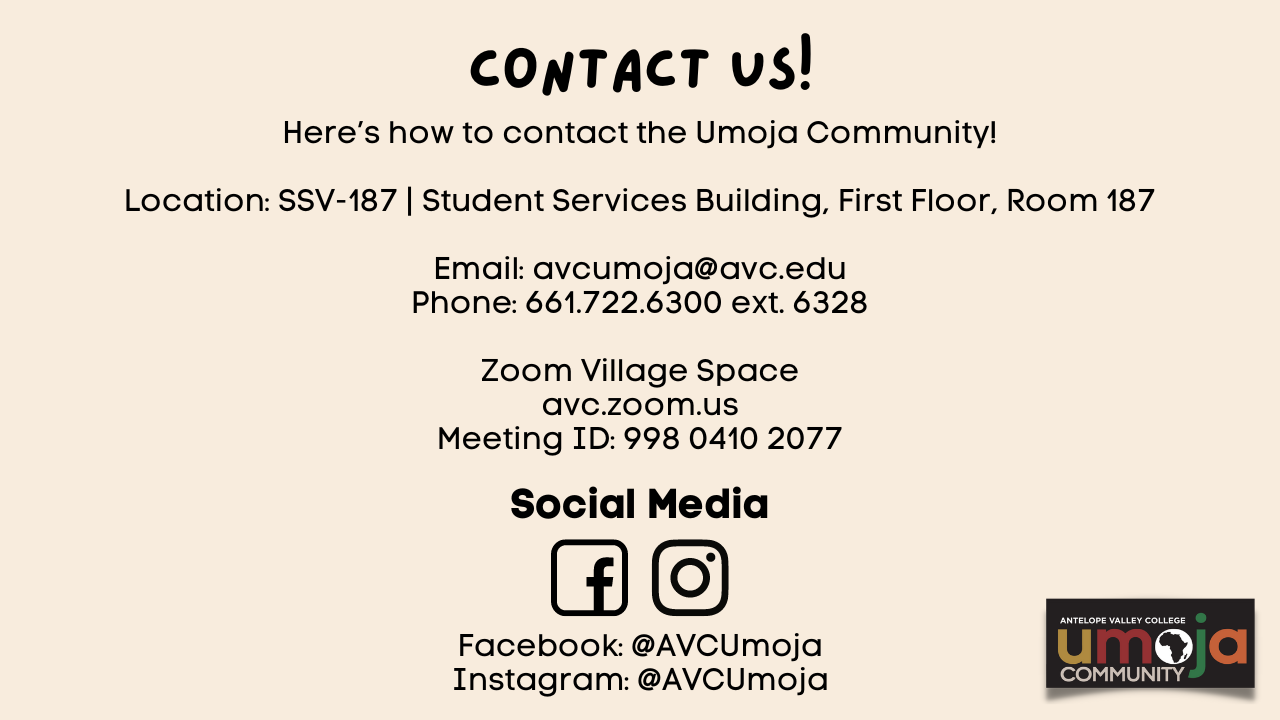 For more information or questions, please email avcumoja@avc.edu