LGBTQIA+ Mission Statement:
Antelope Valley College remains committed to providing equal access, education, and opportunity to all students, especially welcoming students with diverse sexual orientations or gender identities. We aim to provide a secure environment for students whose identities include but are not limited to: Lesbian, Gay, Bisexual, Transgender, Queer, Intersex, Asexual (LGBTQIA+) and their allies . Through a variety of educational opportunities, campus events and community resources, we celebrate diversity within the context of sex, gender and sexual identities. Our goal is to increase cultural awareness regarding all the intersections of identity while promoting equity from a local, national, and global community standpoint. The resources provided serve as a guide are aimed to be a base guideline and support system, as we consistently work towards highlighting new voices and experiences from LGBTQIA+ community members.

Join The LGBTQIA+ Committee Today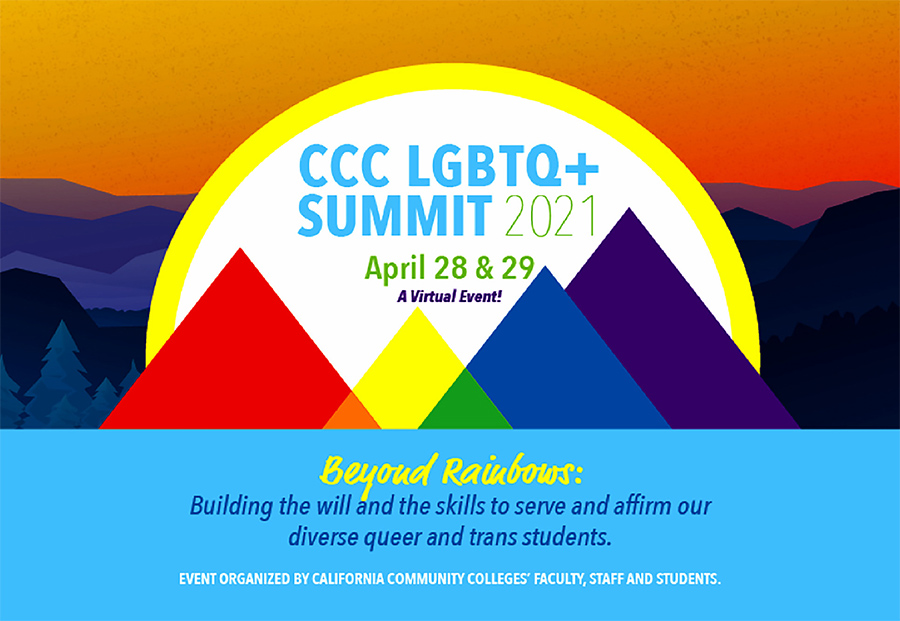 The CCC LGBTQIA+ Summit 2021
The CCC LGBTQIA+ Summit is an opportunity to collaborate with members of the California Community College campuses at all levels. We will learn from each other's innovative and successful ideas that will transform campuses in order that we better serve and affirm LGBTQIA+ students.

This 2-day conference via Zoom is a space for students, faculty, classified professionals, and administrators.

April 28 | 9am–12:30pm
April 29 | 9am–12:30pm

Registration Link: Register Now   (Please register by March 31)

LGBTQIA+ Summit 2021 Flyer (PDF)

For more information, contact: Dr. Jill Zimmerman, Dean of Student Life and Services at jzimmerman@avc.edu

Upon request five business days before the event, reasonable accommodation will be provided to facilitate the participation of covered individuals with disabilities. Call (661) 722-6360 (voice/relay).
AVC LGBTQIA+ BINGO!
Friday, April 23 @ 3:00pm

Join three-time bingo champion Prof. Carina Karapetian Giorgi and Prof. Gregory Langner for some of the funnest B-I-N-G-O in town! But we have to warn you... this QUEER BINGO game is not for the lighthearted! Some side effects might include happiness, laughter and prizes! RSVP: http://bit.ly/VCLGBTQIAbingo