LGBTQIA+ Mission Statement:
Antelope Valley College remains committed to providing equal access, education, and opportunity to all students, especially welcoming students with diverse sexual orientations or gender identities. We aim to provide a secure environment for students whose identities include but are not limited to: Lesbian, Gay, Bisexual, Transgender, Queer, Intersex, Asexual (LGBTQIA+) and their allies . Through a variety of educational opportunities, campus events and community resources, we celebrate diversity within the context of sex, gender and sexual identities. Our goal is to increase cultural awareness regarding all the intersections of identity while promoting equity from a local, national, and global community standpoint. The resources provided serve as a guide are aimed to be a base guideline and support system, as we consistently work towards highlighting new voices and experiences from LGBTQIA+ community members.
---
Come see our new PRIDE Center located in the HUB!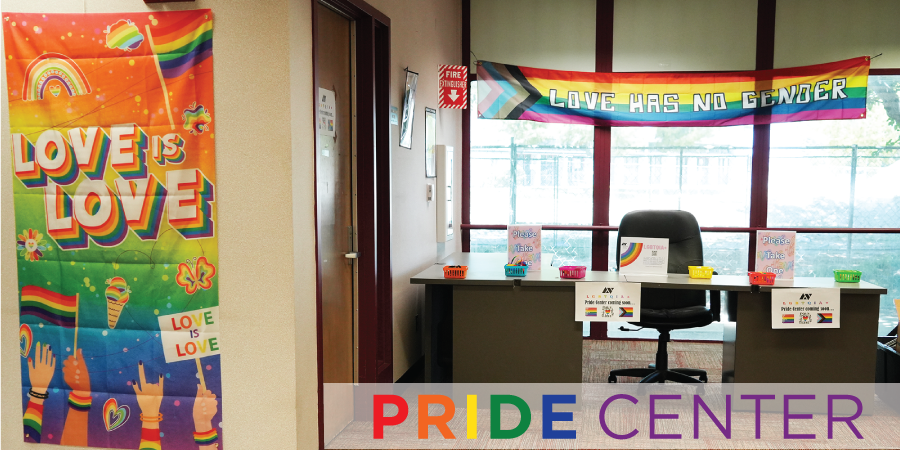 Campus 
Click here to see a map of Single Stall Bathrooms on Campus to provide a safe neutral space. 
AVC Events
August 22-23, 2023 -   CLUB Rush 10:00am-2:00pm. Come see us at our PRIDE Table
---
Community Events
August Events:
August 25-27, 2023 - DTLA Proud Festival (Lovefest)
https://wl.seetickets.us/event/DTLA-PROUD-FESTIVAL-2023/553559?afflky=DTLAProudFestival
August 26, 2023 - Chula Vista South Bay PRIDE Art & Music Festival
September Events:
September 9-10, 2023 - Oakland Pride 
September 10, 2023- Riverside's Inland Empire PRIDE Festival 2023 
Located in the Riverside Convention Center 12-10pm. 
September 16, 2023 -  Modesto PRIDE 
Youth Oriented Picnic 10am-4pm
September 22-September 24, 2023 - Gay Days Anaheim (Disneyland) 
September 23, 2023- Burbank PRIDE 
September 24, 2023 - 40th Annual Folsom Street Fair
September 24, 2023 - Willamette Valley Wine Country PRIDE. 
October Events:
October 8, 2023 - Indigenous PRIDE LA Convention Center
October 14, 2023 - San Gabriel Valley PRIDE 
In Central Park, Pasadena
October 14, 2023 - Models of Pride (Los Angeles)
November Events:
November 3-5, 2023 - Greater Palm Springs PRIDE and Deaf Parade. 
December Events:
December 31, 2023 - A LA Ritz New Years Eve Drag Extravaganza 
Located at Starts Theatre Restaurant in Bakersfield. 
---