​​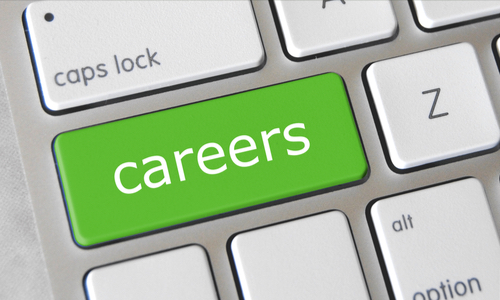 Career Research
The most advanced company information database, Buzzfile allows students to filter a directory of 18 million companies by location, number of employees, annual revenues, and by more than 18,000 industry categories! The "Employers by Major" feature allows students to search employers by zip code who hire graduates of a specified major.
Designed especially for students, users are encouraged to work through the Interest Profiler, Work Importance Profiler, and Assess Yourself assessment based on the Holland Codes for self-exploration. Comprehensive information on 900 occupations includes state specific wages, worker attributes, job characteristics, and much more.
Practical information and real-world answers to career questions for college students. Read articles on different careers, browse the resume gallery and job search guides, and check out their resource links. You can even use the "Ask a Coach" feature to get answers to your questions from career development professionals.
The flagship career, training, and job search website for the U.S. Department of Labor, this website serves job seekers, businesses, students, and career advisors with a variety of free online tools, information and resources.
The Labor Market Information Division (LMID) is the official source for California Labor Market Information. The LMID promotes California's economic health by providing information to help people understand California's economy and make informed labor market choices. They collect, analyze, and publish statistical data and reports on California's labor force, industries, occupations, employment projections, wages and other important labor market and economic data.
Gladeo is a non-profit that promotes and fosters career exploration for students of diverse backgrounds. Their online platform helps students navigate career paths by allowing them to take a free personality/skills test and learn about what career paths may be suited to them. Their content shows students what steps they can take to pursue a particular career and how to connect with relevant resources and organizations.
Provides in-depth information on how to pursue a myriad of careers, as well as how to conduct an effective job search in a variety of fields and industries. Learn How to Become has guides that include insight and advice from several experts and extensive research on different career paths.
This Bureau of Labor Statistics website provides information on what workers do; the work environment; education, training, and other qualifications; pay; the job outlook; similar occupations; and sources of additional information, for 334 occupational profiles covering about 84 percent of the jobs in the economy. Use this guide to get started.
The nation's primary source of occupational information, containing information on hundreds of standardized and occupation-specific descriptors. The database is continually updated by surveying a broad range of workers from each occupation.
Roadtrip Nation empowers individuals to explore who they are and what they want to do with their lives. Through a public television series, online resources, and an educational curriculum, Roadtrip Nation helps career-seekers connect to real-world professionals and discover pathways aligned with their interests.
The California Community Colleges Chancellor's Office provides comparative information about the earnings of recent graduates who received an award in a specific program area at California community colleges, using the aggregated earnings of graduates from a five year period to provide an estimate on the potential wages to be earned two years and five years after receiving a certificate or degree in certain disciplines. This tool also provides information on which colleges offer programs in those specific disciplines. The Salary Surfer does not contain information about wages earned by community college students who transfer to a four-year institution.
What Jobs Can You Get with Your Degree? Talent Desk uses US Census Data to report which careers people choose based on their educational backgrounds and how much they earn in those positions. All data is reported for bachelor's degrees. National earnings data and job growth projections are collected from the Bureau of Labor Statistics.
Career Videos
Help answer the "what careers are there" and "what career is right for me" questions by featuring interviews with real professionals who talk about what they do at work, who makes the right fit for their paths, how to break in and how to succeed.
Watch hundreds of video interviews with people working in different career fields, and with students studying different majors.
The idea for this website was created in response to teens saying they do not know what people really do in their jobs, and therefore find it difficult to decide on a career direction. The website features thousands of videos of people doing their jobs and provides statistical data on job forecast and career information.
Colleges & Universities
California Public Colleges & Universities
An online student-transfer information system that shows how course credits earned at one public California college or university can be applied when transferred to another. ASSIST is the official repository of articulation for California's public colleges and universities and provides the most accurate and up-to-date information about student transfer in California.
The California State University's website where you can learn more about a CSU campus, compare campuses, search CSU degrees and majors, search transfer degrees from community colleges to CSU campuses, review admission requirements, and how to apply.
The University of California's website where you can learn more about the nine UC campuses, research transfer information and major preparation requirements, review admission requirements, information on affording UC, and how to apply.
California Private Colleges & Universities
Learn more about the different private nonprofit colleges/universities in California. The Association of Independent California Colleges and Universities helps students, families, counselors, member colleges and policy makers research and understand private nonprofit higher education in California.
Online Colleges & Universities
Interested in earning your degree online? Check out OnlineColleges.net's listing of the best public, private, and not-for-profit colleges and universities in California offering fully-online degree programs.
Self-Exploration
This section lists (mostly) free interactive career and personality assessments that may serve as fun self-discovery tools. The functionality and reliability of such assessments should be determined by users at their own discretion. The Career Center does not use these assessments with students. For information about the assessments used at the Career Center, visit the Assessments page.
Get a concrete, accurate description of who you are and why you do things the way you do, for free.
Take the Jung Typology Test™ to discover your four-letter personality type and what careers are a fit for that type.
Take the Interest Profiler to find out which careers match your interests.
Choose from several personality and career assessments to learn more about yourself.
Skill Building
Expand your skills by completing free online courses! Coursera is an education platform that partners with top universities and organizations worldwide, to offer courses online for anyone to take.
Khan Academy is a free, online personalized learning resource for all ages, offering practice exercises, instructional videos, and a personalized learning dashboard that empower learners to study at their own pace in and outside of the classroom. They tackle math, science, computer programming, history, art history, economics, and more. Their math missions guide learners from kindergarten to calculus using state-of-the-art, adaptive technology that identifies strengths and learning gaps. They've also partnered with institutions like NASA, The Museum of Modern Art, The California Academy of Sciences, and MIT to offer specialized content.