Don't ignore your mental health this holiday season. Talk to a TimelyCare counselor anytime, even on holidays!
#timelycare  #forstudentsforfree
Antelope Valley College offers 24/7 mental telehealth counseling for students. Click here to get started. 
Please call TimelyCARE Customer Support at (833) 484-6359 if you are looking for a therapist that meets your specific criteria, so you get the right support for you.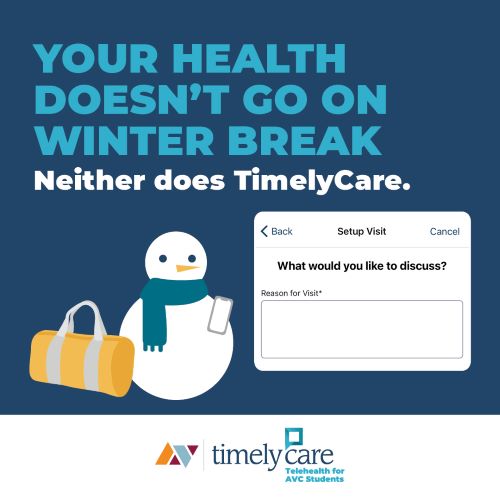 Mental Wellness: 5 ways to treat your mind better:
1) Meditate or take 15 seconds for slow intentional breathings throughout the day
2) Get up and walk around at least 2 times a day without your phone
3) Give your brain a rest from stressful tv, (including stressful entertainment tv/movies once a week) your brain doesn't know the difference
4) Exercise at least once a day if you can or once a week to start (anything is a start!)
5) Be patient with yourself & others
AVC Resources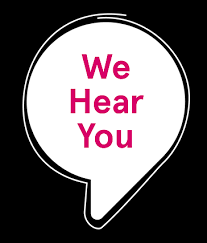 There's a lot going on in the world and we hear you!
You are not alone during these difficult times, particularly related to the COVID-19 pandemic, racial trauma experiences from current events, media coverage of protests, learning to adapt to new ways of life that include online learning, loss of security and what is familiar – and you may find yourself struggling to cope. You may be experiencing anger, guilt, shock, denial, fear, exhaustion and sadness. Reach out – there are services and supports in place for you, to help you understand these emotional challenges and help you heal.

Balancing college life with other responsibilities can be difficult.  Antelope Valley College now offers 24/7 mental telehealth for students.  You will be able to talk to a licensed provider from your smartphone or any web-enabled device. Licensed providers are available to offer mental health support via phone or secure video visits. 
Please  go to timely care Telehealth for AVC Students to register for and access telehealth services. You can then have visits from any web-enabled device throughout the United States – smartphone, tablet, laptop, or desktop. You must use your legal name as listed in Banner to create a profile. You may then change to a preferred name. Students are eligible for 12 sessions per year of mental health telehealth counseling support at no cost to them. 
After hour supports:
National Suicide Prevention Lifeline
suicidepreventionlifeline.org
(800) 273-8255
24/7 support for individuals in distress, prevention and crisis resources
Crisis Text Line
crisistextline.org
24/7 text HOME to 741741 to reach a crisis counselor