Health Services: Available Services Fall 2020
Personal Mental Health Counseling
Balancing college life with other responsibilities can be difficult. You are not alone during these difficult times, particularly related to the COVID-19 pandemic, racial trauma experiences from current events, media coverage of protests, learning to adapt to new ways of life that include online learning, loss of security and what is familiar – and you may find yourself struggling to cope. You may be experiencing anger, guilt, shock, denial, fear, exhaustion and sadness. Reach out – there are services and supports in place for you, to help you understand these emotional challenges and help you heal.

Make a confidential appointment with a mental health counselor to assist you. Telecounseling services are available Monday through Friday from the CSUB-AV counseling office. Appointments can be made by calling (661) 952-5099. If calling after hours please note an after-hour emergency phone number is provided on the voice mail. If on-campus counselors are NOT available, please call CSUB counseling office in Bakersfield directly at (661) 654-3366.

Students must have their AVC Student ID 900 number and be enrolled in the current semester.
Medical Services
Currently enrolled students can make telemedical appointments with the CSUB-AV clinic by calling (661) 952-5064 The clinic is available to students Monday - Thursday 8:00 am - 5:00 pm and Friday 8:00 am - 5:00 pm. Please note services at this time are delivered telemedically and in-person services are not available due to COVID19 regulations until further notice. Please email studenthealth@avc.edu for more information or to get connected to other support services.
Services include:
Evaluation and counseling for individual health problems
Family planning and gynecological health care for women
Sexually transmitted infection (STI) information
First Aid
Blood pressure screenings
Immunizations
Elective physical exams
Pap smears
TB skin test
Sexually transmitted infection (STI) testing

Vision Services
Please email studenthealth@avc.edu for a vision voucher to be issued electronically to you.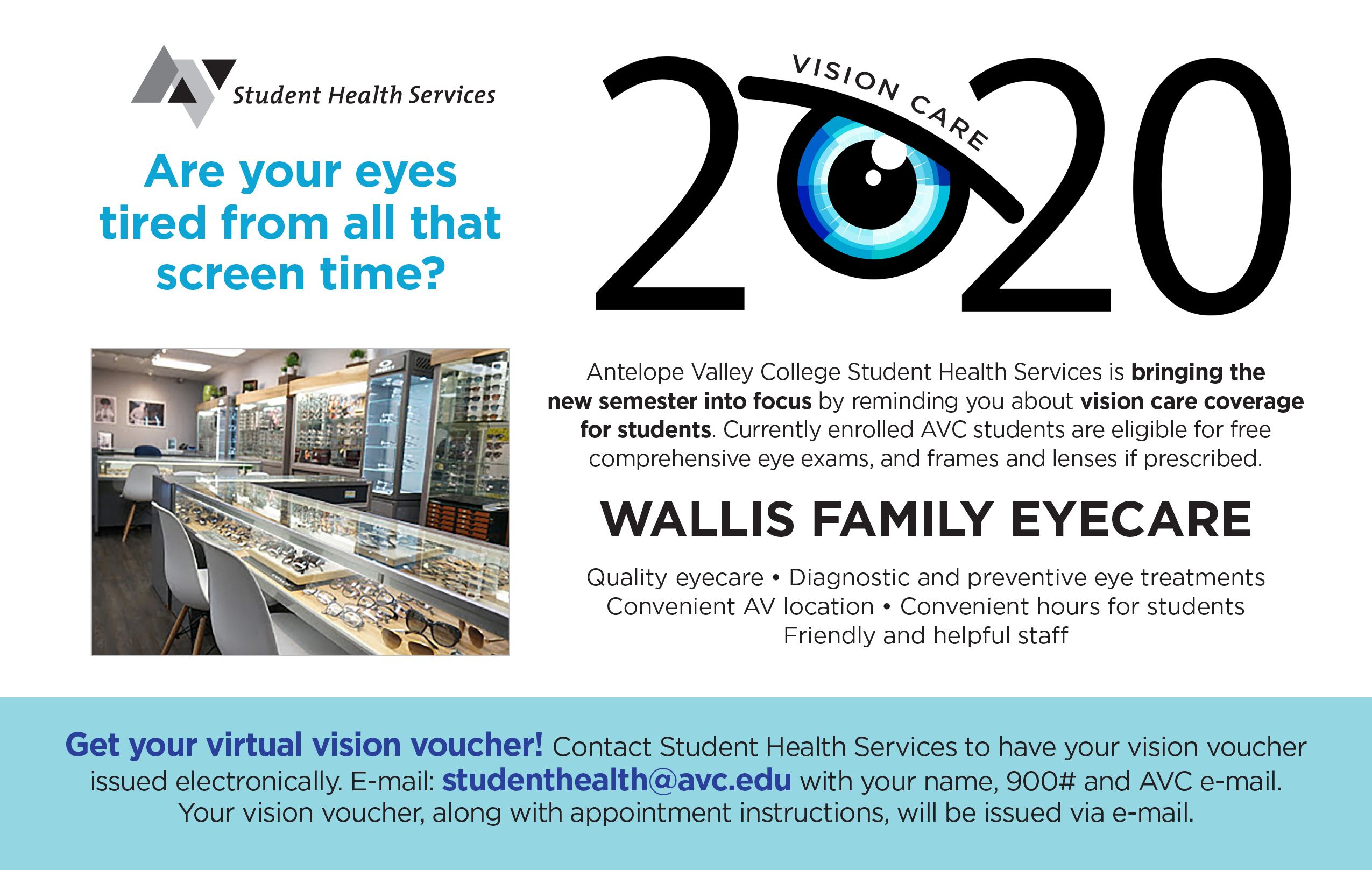 Dental Services - New provider information coming soon!
Yes! Your smile is covered at AVC. Currently enrolled AVC students are eligible for preventive dental services.
What is covered?
• Dental exams, x-rays and cleanings
—all free of charge
• Special discounted fees for all other treatments
• Most insurances accepted—for even more savings
What do I need to do?
• Email Student Health Services at studenthealth@avc.edu for more information
• At the time of your appointment you will need to present an authorized dental voucher or dental voucher number from Student Health (required for treatment)


Health Events & Activities
Health related programs and issues are presented to the students throughout the school year. These programs are offered to educate our students on relevant health issues so they can make informed decisions regarding their health.
Some examples of programs offered are listed, but many of these change from year to year as students' interest in topics change.
Blood Drives occur throughout the year
Information for Mental Health First Aid Training
Breast Cancer Awareness
Great American Smoke Out/Lung Cancer Awareness
Consequences of Tobacco
National Collegiate Alcohol Awareness
COVID-19 and Flu Facts
Sex, Communication and Respect
Skin Cancer Awareness
World AIDS Day
Sexual Responsibility Awareness
Heart Health
Domestic Violence
Eating Disorders
Finals Relaxation
Sexual Coercion and Assault
Sexual Assault Prevention
Mid-Term Study Jam
Finals Study Jam
Mindfulness/Meditation Class