CARES Act Funding Information and Reports
Click here for more information on HEERF.

IMPORTANT:
Enrolled students for the Spring 2021 Semester excluding incarcerated students will be eligible for the CRRSAA (HEERF II) award. The next scheduled disbursement for HEERF II awards is tentatively set for April 8th. Antelope Valley College (AVC) has partnered with BankMobile to deliver refunds and offer you smarter ways to manage your money. Ensure you have chosen your refund preference with BankMobile and review the below Q&A for answers to your questions.

AVC HEERF I (CARES Act) and HEERF II (CRRSAA) Q&A
 
Q1: What is HEERF I?
A1: The Coronavirus Aid, Relief, and Economic Security Act or, CARES Act, was passed by Congress on March 27th, 2020. This bill allotted $2.2 trillion to provide fast and direct economic aid to the American people negatively impacted by the COVID-19 pandemic. Of that money, approximately $14 billion was given to the Office of Postsecondary Education as the Higher Education Emergency Relief Fund, or HEERF. About the CARES Act: Higher Education Emergency Relief Fund
Q2: What is HEERF II?
A2: The Higher Education Emergency Relief Fund II (HEERF II) is authorized by the Coronavirus Response and Relief Supplemental Appropriations Act, 2021 (CRRSAA), Public Law 116-260, signed into law on Dec. 27, 2020. In total, the CRRSAA authorizes $81.88 billion in support for education, in addition to the $30.75 billion expeditiously provided last spring through the Coronavirus Aid, Recovery, and Economic Security (CARES) Act, Public Law 116-136. CRRSAA: Higher Education Emergency Relief Fund II (HEERF II).

Higher Education Emergency Relief Fund (HEERF) II Public and Private Nonprofit Institution (a)(1) Programs (CFDA 84.425E and 84.425F) Frequently Asked Question (PDF).
Q3: Who is eligible?
A3: All Spring Semester 2021 students that are enrolled at the time of disbursement are eligible except incarcerated students.
Q4: Who is NOT eligible?
A4: Incarcerated students are not eligible since they have not incurred expenses due to the disruption of the campus services due to COVID. 
Q5: If I complete the FAFSA, will I get HEERF II funds?
A5: Students do not need to complete the FAFSA in order to be considered for the HEERF II funds. However, we encourage all of our students to complete a FAFSA/CADAA to determine if they are eligible for any additional financial aid. AVC's School Code to complete the FAFSA/ CADAA is 001113. You can find instructions on how to complete your Financial Aid application at https://www.avc.edu/studentservices/finaid.
Q6: How much money will I receive?
A6: AVC will allocate the HEERF II funds based on the students enrollment for the Spring Semester 2021. Please review the table below for award amounts:
Units Enrolled
Pell Grant Eligible Students
Non Pell Grant Elible Sudents
Full-Time Enrollment
(12 or more units)
$2,000.00
$1,000.00
Three-Quarter Time Enrollment
(9-11.9 units)
$1,500.00
$750.00
Half-Time Enrollment
(6-8.9 units)
$1,000.00
$500.00
Less than Half Time Enrollment
(.5 units-5.9 units)
$500.00
$250.00
Non Credit Classes
$250.00
$125.00
Q7: Why did AVC decide to disburse the funds in this way?
A7: To maximize the amount of funds to students, AVC provided assistance based on how many units the students were enrolled in for the term. More assistance was provided to students who are eligible to receive Pell grants to prioritize those with exceptional need.
Q8: When will AVC be disbursing the funds?
A8: The HEERF II disbursement is tentatively scheduled for April 8, 2021.
Q9: How do I get my money?
A9: The funds will be disbursed in a single payment to your student account. If you have a BankMobile account, it will be distributed based upon your already identified preference. If you do not have a BankMobile account, information will be coming in the mail and via email about setting up your payment preference. See more information about BankMobile here. Please ensure your mailing address is current in your myAVC account.
Q10: Will there be any funding for those who are not eligible?
A10: No.
Q11: If I have direct deposit established for my AVC paycheck but I do not receive Financial Aid, can my funds be deposited through my established direct deposit?
A11:  All students must select their refund preference with BankMobile. You can select the ACH option as a preference on BankMobile
Q12: How may students use their financial aid grants?
A12:  Financial aid grants for students may be used for any component of the student's cost of attendance or for emergency costs that arise due to coronavirus, such as tuition, food, housing, health care (including mental health care) or child care.
Q13: I have further questions about the HEERF I & II funding, who do I contact?
A13: While the campus is in remote operation status, please contact the financial aid office via Zoom or Cranium Cafe. You also may call the Financial Aid Department at 661-722-6300 ext 6337. When the campus reopens, you may visit the Financial Aid Office.
 
BankMobile (Formerly Higher One)

Antelope Valley College has partnered with BankMobile to deliver refunds and offer you smarter ways to manage your money.

Look for your Refund Selection Kit. It looks like this.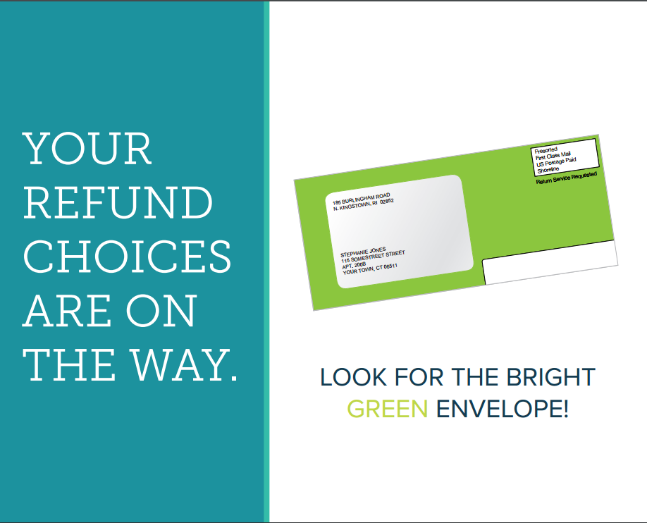 Once it arrives, simply follow these steps to make your refund preference selection:
1. Visit https://www.refundselection.com
2. Enter your Personal Code
3. Create your login information
4. Select how you'd like to receive your money.
 
Q14: What happens if I don't log in to select a refund preference?
A14: If you do not log in and select a refund preference, BankMobile will mail a paper check to you no sooner than 21 days after your refund is disbursed. Regardless of whether you anticipate receiving a refund or not, it is important to select your refund preference as soon as you receive the refund selection kit so that you do not have to wait for your money.
Q15: How long will it take to receive my funds once I have selected my preferred refund method?
A15: Once the college has refunded your financial aid funds, BankMobile will distribute your funds as follows:
Direct deposit to your own checking or savings account: 2-3 business days
BankMobile Vibe account: Same business day
Q16.What if I didn't receive the BankMobile Refund Selection Kit?
A16. The BankMobile Refund Selection Kit is mailed to the mailing address on file with Admissions and Records. If you did not receive the mailer, please verify and/or update your current mailing address on your MyAVC account. Once your mailing address is confirmed please contact the financial aid office to request a Personal Code.
Additional information:
ATM Locator Website http://www.allpointnetwork.com/atm-locators.aspx
Click Here to view our institution's contract with BankMobile, a division of Customer Bank.
For more information about BankMobile disbursements please visit http://bankmobiledisbursements.com/refundchoices/.

Higher Education Emergency Relief Fund (HEERF) II FAQs
Archived – AVC CARES Act Funding Q&A (March 22, 2021)

FAQ prior to June 17, 2020