Palmdale Center

Registration
If you have not submitted an admissions application for Antelope Valley College, you may apply online right now. Registration for classes is easy using myAVC. Please note that you may be required to take a free assessment if you apply for courses that have a math or English prerequisite.
Tuesday, October 2nd and Wednesday, October 3rd - Midterm Study Jam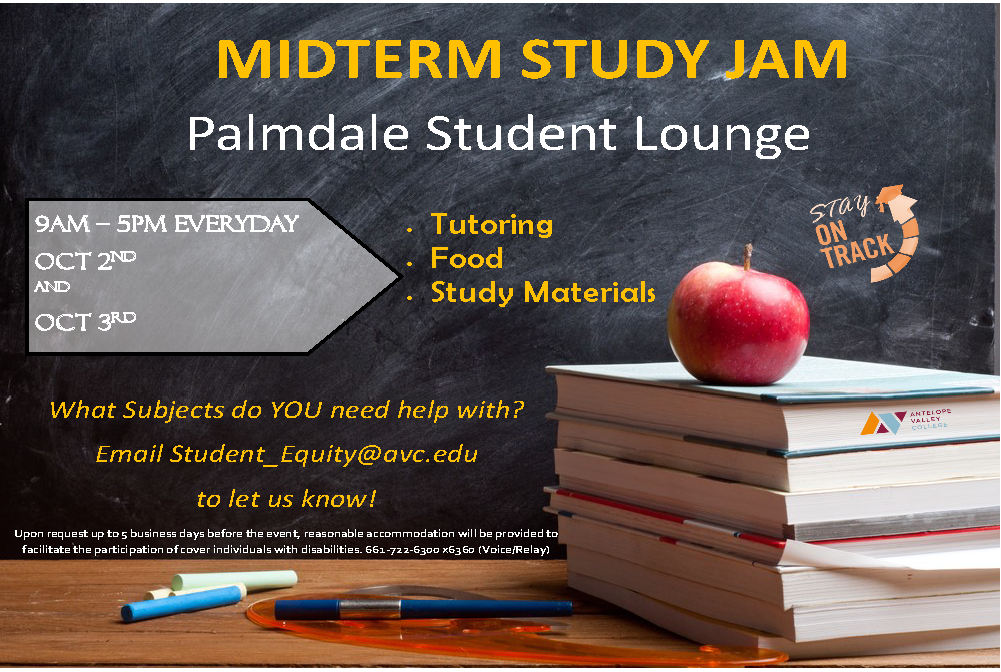 Monday October 8th - World Mental Health Day at Palmdale Center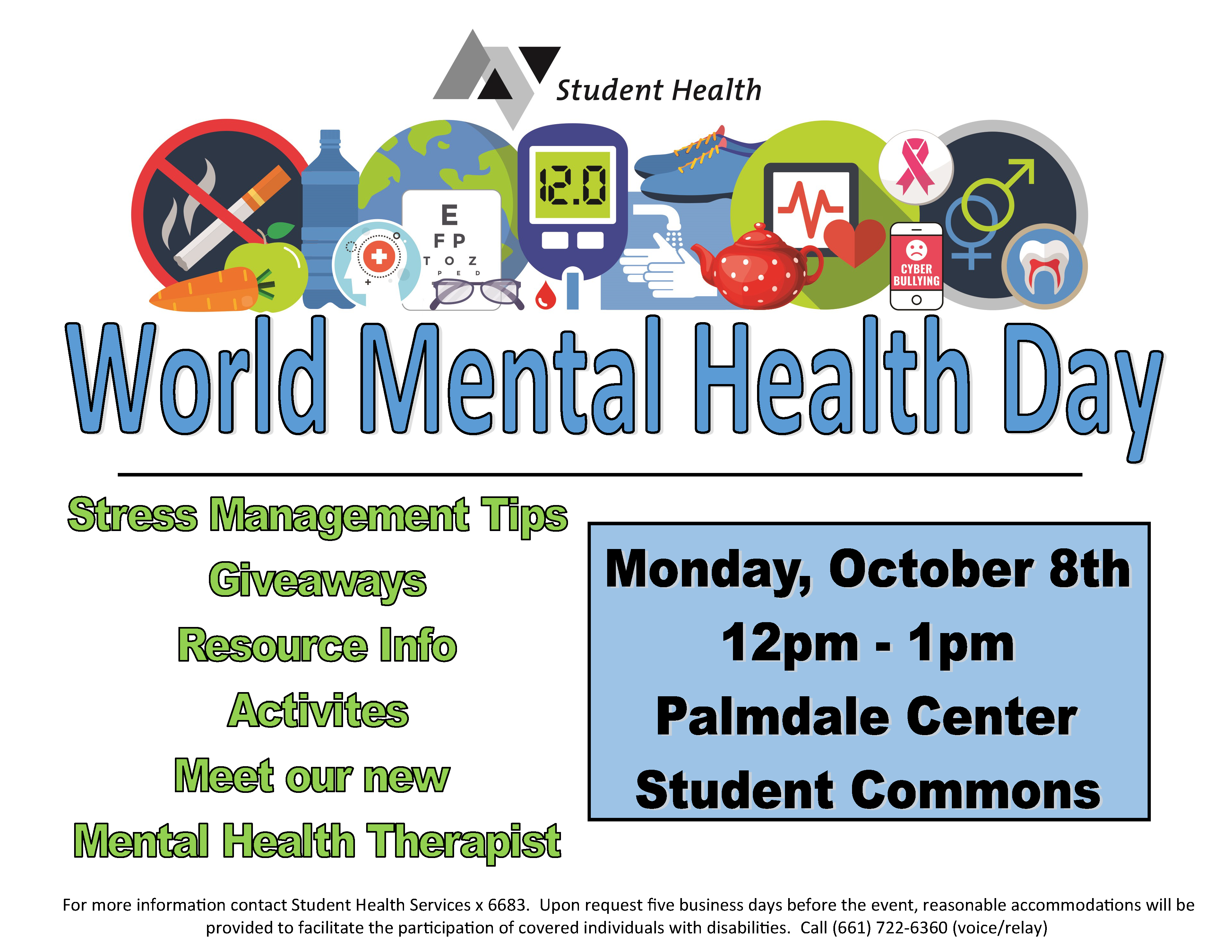 Mental Health Services in PC-SSV 108 at Palmdale Center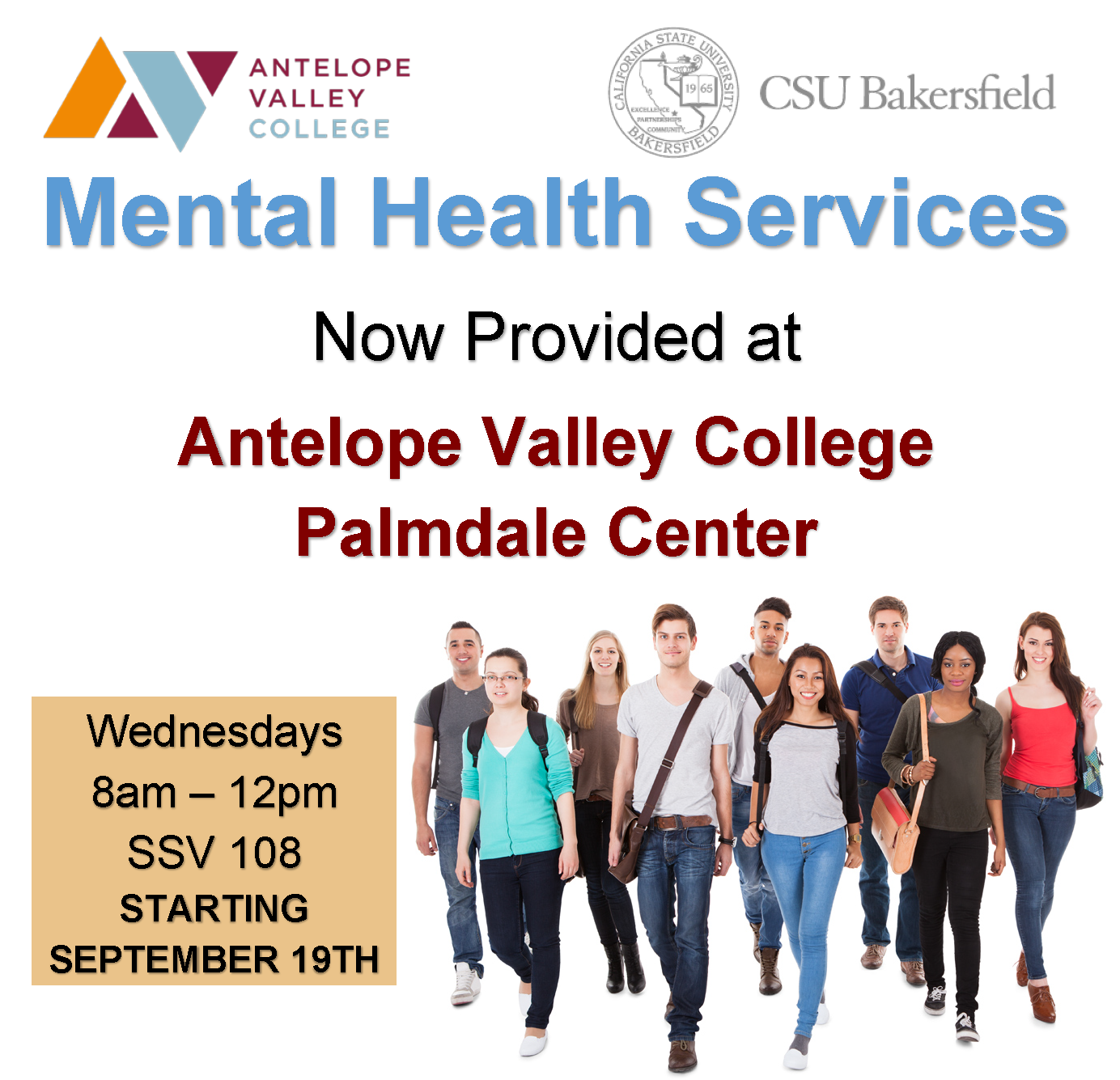 CSUB-AV Counseling Center The Counseling Center is here to help with personal, academic, or career concerns.  The primary goal of psychological counseling is to help students develop the personal awareness and skills necessary to overcome problems and to grow and develop in ways that will allow them to take advantage of the educational opportunities at the college and university. 
This is a free and confidential service available for all AVC students. Walk-ins and appointments are accepted. 
Contact: AVC Student Health Services (661) 722-6300 ext.6683 for more information                 
Make an appointment: CSU Bakersfield Student Affairs (661) 952-5099 to make an appointment
NEW STUDENTS PLEASE JOIN US FOR OUR STUDENT SUCCESS WORKSHOPS!
Tuesday, July 10th from 9am-12pm (Room 147)
Wednesday, September 5th from 3pm-6pm (Room 146)
Tuesday, October 23 from 9am-12pm (Room 146)
Thursday, November 15 from 3pm-6pm (Room 146)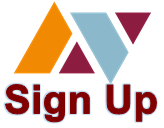 Please visit the schedule of classes and select "Palmdale Center" in the "Location" selection box.
To reach the Palmdale site by phone, dial 661.722.6400 Option 1. The new Palmdale Center is located at 2301 E. Palmdale Blvd. This location is triple the college's previous location. The 50,000 square foot facility includes 17 modern classrooms including state-of-the-art science labs, computer labs, student service space and contemporary design throughout.