Welcome to Antelope Valley College's Student Equity Department  
WE ARE LIVE for ONLINE SERVICES. 
Due to the current COVID-19 outbreak and related college campus closure the Student Equity Department and Antelope Valley Community College District is working remotely until September 30, 2020.  Please be patient as response times may be longer than normal. The most current information regarding our campus closure is available on the AVC website at: www.avc.edu/novel-coronavirus
---
Student Equity Staff:
| Name | Title | Email | Phone |
| --- | --- | --- | --- |
| Rashall Hightower | Director, Student Equity / Umoja Coordinator | RHightower7@avc.edu | 6424 |
| Crystal Garcia, M.S. | Program Specialist/Umoja Co-Coordinator | CGarcia4@avc.edu | 6844 |
| Ty Steans | Program Specialist | TSteans@avc.edu | 6156 |
| Desireé Lee | Program Specialist | DLee35@avc.edu | 6867 |
| VACANT | Clerical Assistant III |   | 6375 |
---
Office Location: SSV-180 (Student Services Building, First Floor, Room 180)
Email: Student_Equity@avc.edu
Phone: 661.722.6300 ext. 6375
---
Student Equity Zoom Front Desk
The Student Equity Department has moved our front desk services online via Zoom!
Come and chat with a LIVE person DAILY on the Student Equity Zoom Front Desk.
Monday - Thursday | 8 AM - 5 PM
Friday | 7:30 AM - 11:30 AM 
https://cccconfer.zoom.us | Meeting ID: 998 0410 2077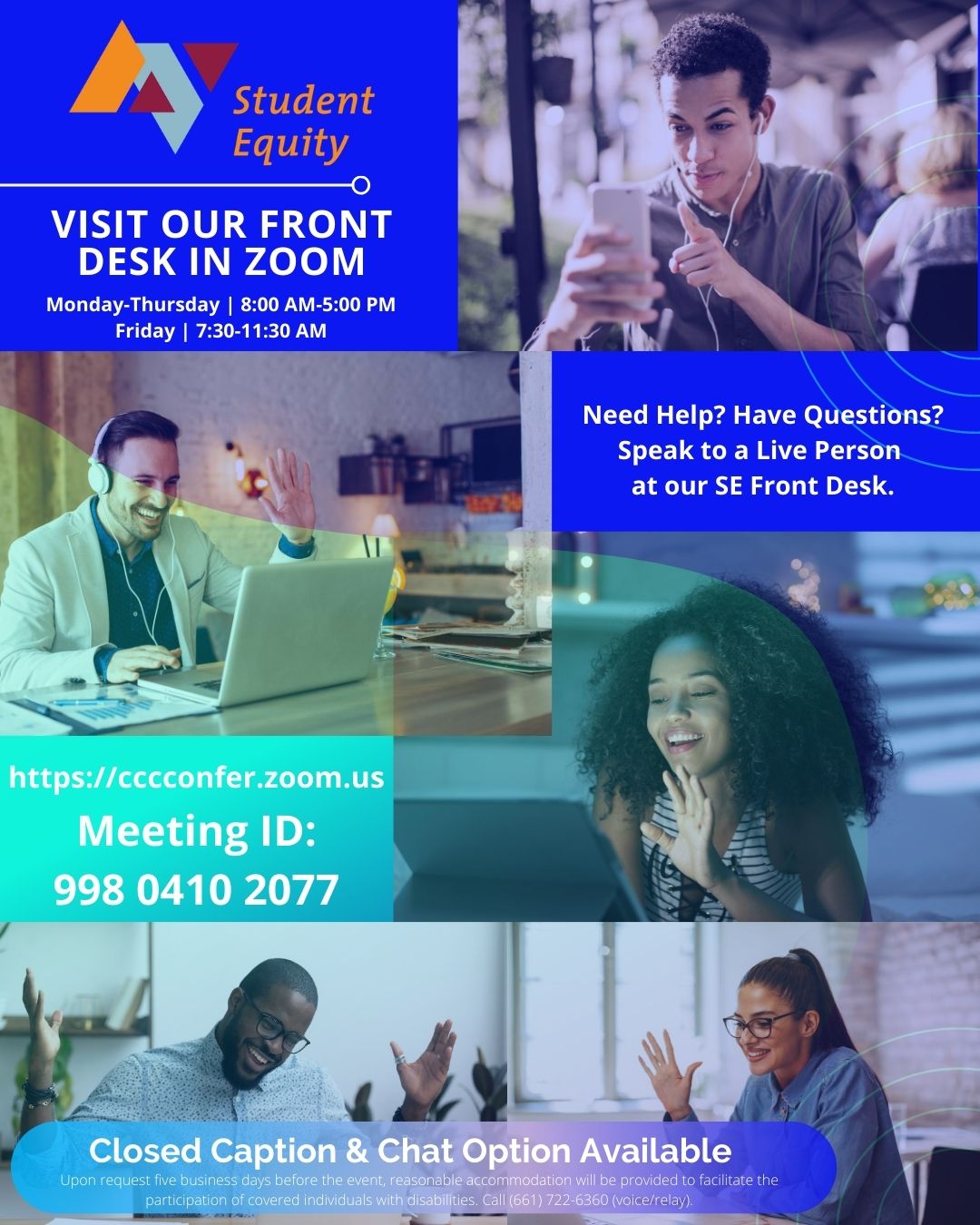 ---
Student Equity Cranium Café
Cranium Cafe is a web-based service that uses webcam and audio to supplement the in-person Student Equity experience.  With a full-service, online appointment, it allows students to connect with staff.  Online CHAT is also available for students to ask quick and general Student Equity questions.  
Cranium Cafe Basic Instructions:
Video Meeting Requirements:

Use a smartphone, tablet, laptop or desktop computer which has Chrome or Firefox as your web browser (Chrome is preferred)

Shut down all other webpages for a faster connection
Have a microphone and webcam activated
Test your webcam and audio prior to the meeting here https://my.craniumcafe.com/pre-meeting-check
Please review appropriate Netiquette (screen reader version) 
If the Informed Consent Box is not fully visible, please your browsers zoom function for a smaller setting.    
How to initiate a Walk-in Session:
Step 1: Click the "Knock on Door" button on the staff member's Cafe card
Step 2: Current students should login with your student ID and prospective student can create an account through the login page
Step 3: Wait for the pop-up chat window to appear to start the session
Step 4: Click on the Enter Meeting or Enter Lobby button within the chatbox
Student Equity Staff on Cranium Café
Rashall Hightower, Director, Student Equity
Crystal Garcia, M.S., Program Specialist
Ty Steans, Program Specialist