About AVC: Campus History
Antelope Valley College held its first classes on Sept. 10, 1929 as an extension of Antelope Valley Joint Union High School in Lancaster. Then known as Antelope Valley Junior College, the college was established by high school officials as a way to provide local residents with access to the first two years of a college education in what was then a remote, rural area. The college shared classrooms on the high school campus where the existing Antelope Valley High School stands. In June 1931, Aubrey Byron Chase became the first graduate of the college. He went on to become a military chaplain and a Baptist minister.
Average daily attendance (ADA) at the college reached 100 by 1939. However, with the outbreak of World War II, attendance plummeted to the same level as the first year of the college. There were pressures to close the college, yet trustees and staff held out through the war years. Enrollment began to grow steadily after the end of the war, partly due to the GI Bill of Rights that provided higher education opportunities to veterans and partly because Antelope Valley began developing an aircraft industry. The college had launched its first vocational programs as it moved toward becoming the comprehensive community college it is today.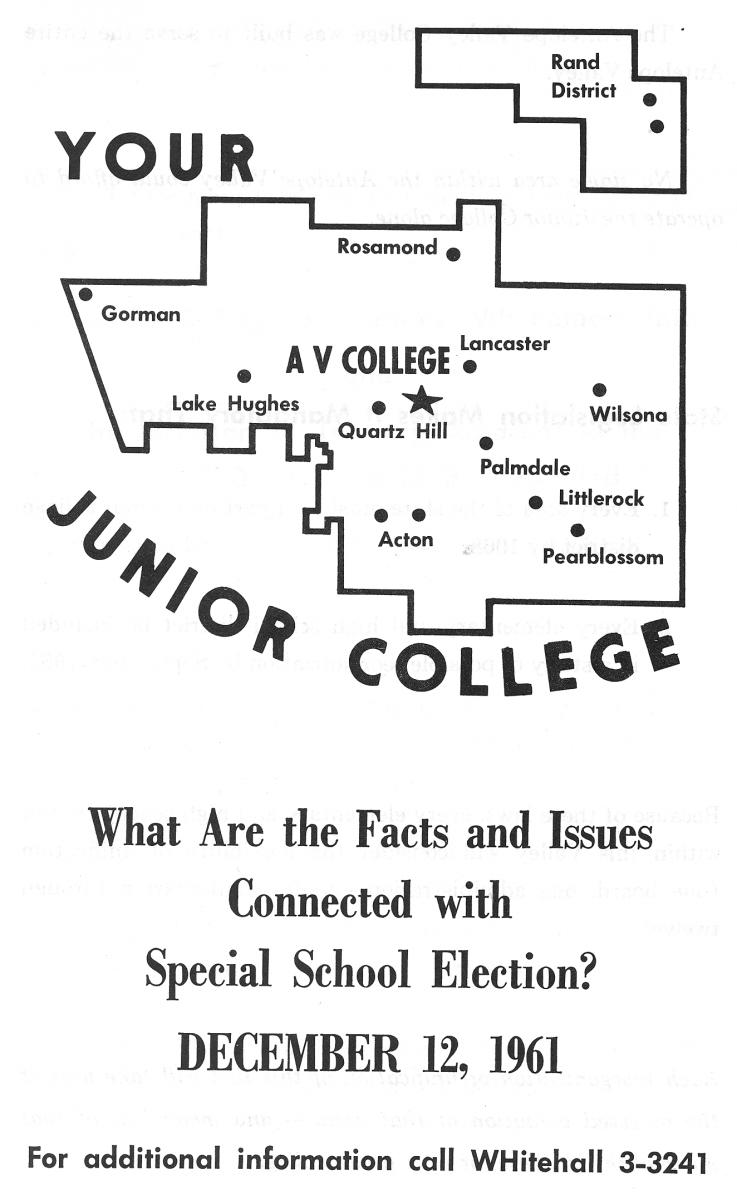 Another milestone in the development came in 1957 when Dr. Lowell F. Barker was hired as the college's first president – a break from directors who oversaw the college prior to that time.Groundbreaking was held in September 1959 for a new college campus on 110 acres at Avenue K and 30th Street West. The new campus – designed to accommodate 1,500 students -- opened two years later.
Officials realized it was time to pull away from the high school governance structure. In December 1961, local voters approved creation of a separate community college district. In another election in spring 1962, voters elected the first board of trustees to govern the college district: Ross Amspoker, Louis Massari, Charlotte R. Rupner, Glen Settle and Chester Wolowicz. July 1, 1962 marked the official start of the new college district.
The college continued to grow, as did the surrounding community. In the 1970s, the campus added a blackbox theater, music building, consumer education building and arts building surrounding what is known as the Fine Arts Quad. Other buildings were added on the north side of the campus to accommodate technical programs such as automotive technology, welding and electronics.
As student enrollment grew at the college during the 1980s, officials secured state money in the early 1990s for construction of a new library in the heart of the campus, along with an administration building. More construction followed including a Child Development Center, two-story Applied Arts Building, three-story Business Education Building, and Technical Education Building. Additionally, the college expanded its size to approximately 135 acres though land purchases.
AVC began to host upper division and graduate level programs offered by California State University, Bakersfield. California State University, Bakersfield-Antelope Valley now has its own satellite campus at AVC's Lancaster campus.
AVC responded to the needs of south valley residents by establishing a Palmdale Site, currently at 1529 E. Palmdale Blvd., Palmdale. Approximately 3,000 students are served at the Palmdale Site.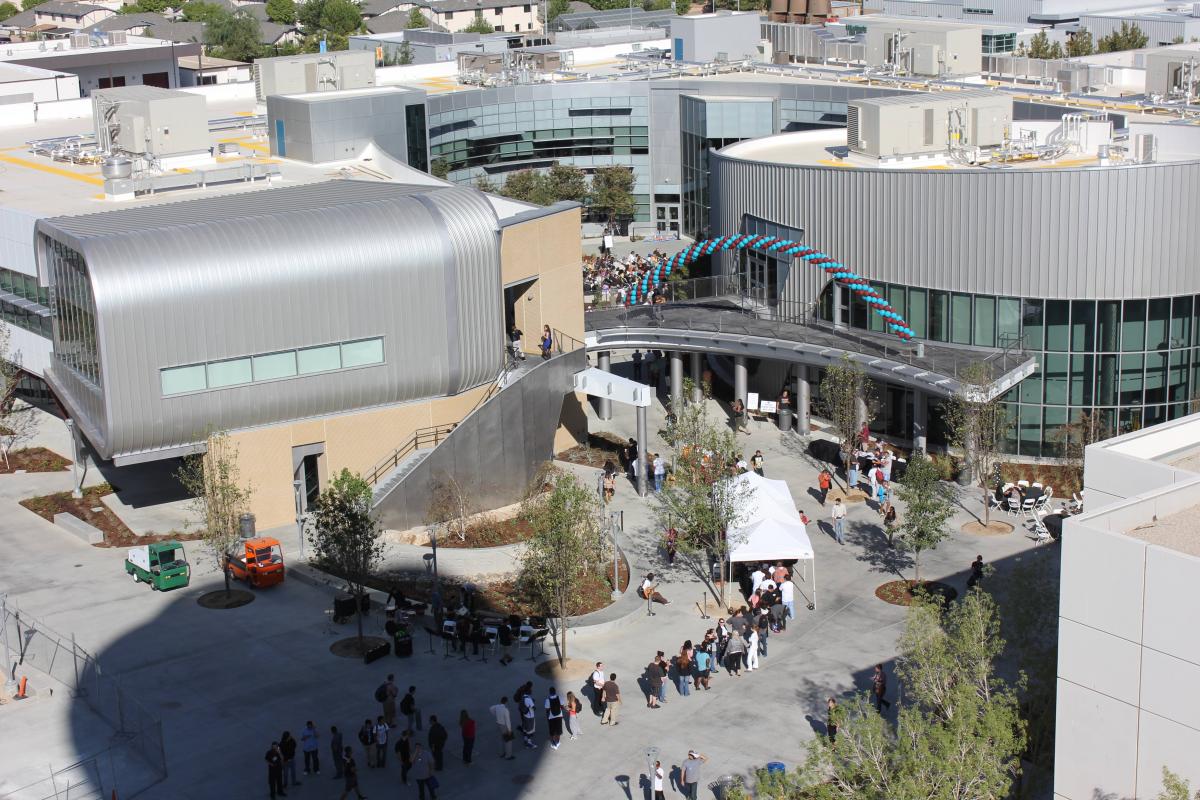 In 2007,The Lancaster campus became home to SOAR High School, which serves approximately 400 ninth through twelfth grade students who concurrently take high school classes and college-level classes.
Officials continue to expand and update labs and classrooms to serve students. The Performing Arts TheatRe building was constructied in 2009 ant Health and Science Building was completed in 2012. In 2015, AVC awarded a record-setting 2,283 degrees and certificates. Overall enrollment at Antelope Valley College now exceeds 18,000 students.
In fall 2016, AVC will begin offering bachelor's program in Airframe Manufacturing Technology, specifically designed for the needs of local aerospace industry employees.