For all EMERGENCY and URGENT situations contact:
AVC CAMPUS SECURITY
(661) 722-6399
OR Extension 4444 from a campus telephone
A Non-Facility emergency is any situation that requires immediate assistance from campus security, fire department or ambulance. Examples include:
A fire
A crime, especially if in progress
A car accident, especially if someone is injured
A medical emergency, such as someone who is unconscious, gasping for air or not breathing, experiencing an allergic reaction, having chest pain, having uncontrollable bleeding, or any other symptoms that require immediate medical attention.
A Facility related emergency requiring Facilities Services can vary by building. Our emergency response activities aim to protect human and animal life, and to stop (or significantly reduce) any immediate damage to facilities. Examples include:
Floods or steam leaks
Elevator breakdowns
Sudden structural failures
Smell of smoke or natural gas
Other interruptions that adversely affect human life or critical building equipment/campus locations.
A Facility related urgent situation requiring Facilities Services response includes potential security, facility and life/health/safety issues and urgent transportation issues. Examples include:
Unsecured buildings or areas
Facility repair issue that could lead to significant risk or damage
Stranded district vehicle
AVC Emergency Related Links: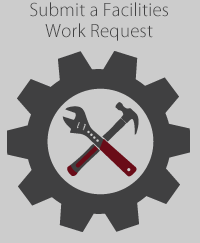 FS Help Center
FS Office Hours
M-Th 7:30am-6pm
F 8am-11am
FS Fax
661.722.6514
FS Mailing Address
Antelope Valley College
Facilities Services
3041 W Ave K
Lancaster, CA 93536
FS Facilities Planning & Campus Development
661.722.6300, extension 6470
FS Maintenance & Operations
661.722.6300, extension 6480
FS Campus Events, Transportation, & Operations
661.722.6300, extension 6562
FS Anonymous Call-In
661.722.6300, extension 1120