Marauder Basic Needs
Mission Statement
The Basic Needs Committee's mission is to help Antelope Valley College students access on-campus and community resources to maximize student success in achieving educational goals. The committee strives to connect students with resources available, both on-campus and in the community that will address students' basic needs so they can remain focused on education. The committee actively builds linkages and collaboration with partner agencies in the community that can help students meet their basic needs. Lastly, the committee seeks to promote awareness of resources to all students, faculty and staff.
We have moved! Please visit us in our new location (T100)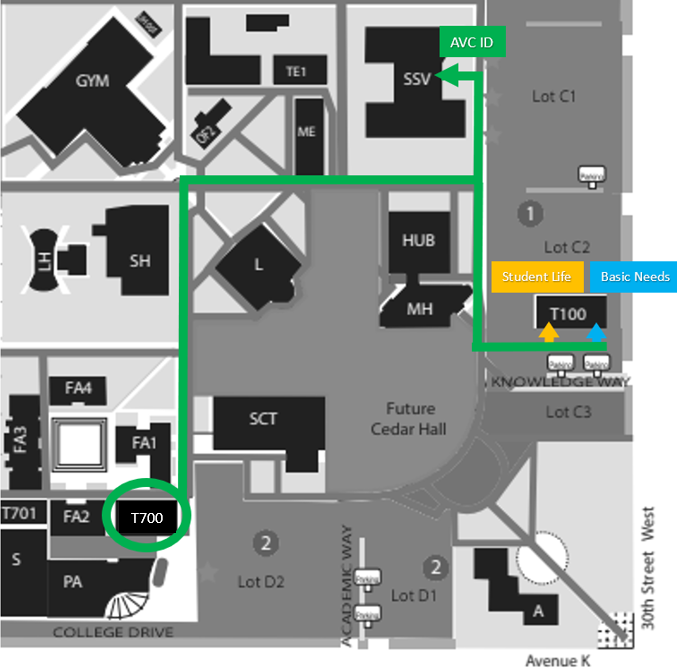 To contact us please email basicneeds@avc.edu or call 661-722-6685.
Apply here:
If you are getting an error message with the form your device (computer/phone) is remembering a non-AVC email address. Logout of that google account and using your AVC email you will be able to complete the form. 
The Basic Needs Application is where you apply for the following resources/programs:
Food

Hearts & Hands Pantry (Day Bags/Weekly Groceries)

Marauder Market

Housing

AVC referrals to housing programs

Transportation

Campus Connect Bus Pass (AVTA/Kern)

Gas Cards

Mental Health

Family Resource Center

AVC students who have dependent children in their care can received items such as: Diapers, Wipes, Clothing, Baby Food, Shampoo/Soap, Toys, Books, etc. 

Physical Health (Vouchers)

Vision (Eye exam and lenses/frames if prescribed by Wallis Family Eyecare)

Dental (x-rays, oral exam, and dental cleaning with Valley Wide Dental)

In-person Medical (Summit Urgent Care)

Hygiene

Clothing and Laundry

Technology

WiFi Hotspot Loan

Computer Loan
Additional AVC Resources
Emergency Grant (ASO - up to $500)
First and Second Year Experience
Community Resources
Food
Housing Resources
Are you a landlord interested in renting rooms to AVC students in need? Please fill out our interest form!
Family Resources
Financial Resources 
General Resources