Counseling: Academic Probation & Dismissal
Image

Reflect. Improve. Succeed. Excel. (R.I.S.E.) Program
Welcome to the Antelope Valley College Reflect. Improve. Succeed. Excel. (R.I.S.E.) Program page. Our office provides individual counseling and workshops with the specific purpose of assisting students to regain academic good standing with the college. 
Academic Probation - A student is placed on Academic Probation when the cumulative GPA falls below 2.0.  A student is placed back in good standing as soon as the GPA raises to 2.0 or higher.  
Progress Probation - A student is placed on Progress Probation when W, I and NP grades reach the level of 51% or more.  A student will be placed back in good standing when the W, I, an NP grades are 50% or less.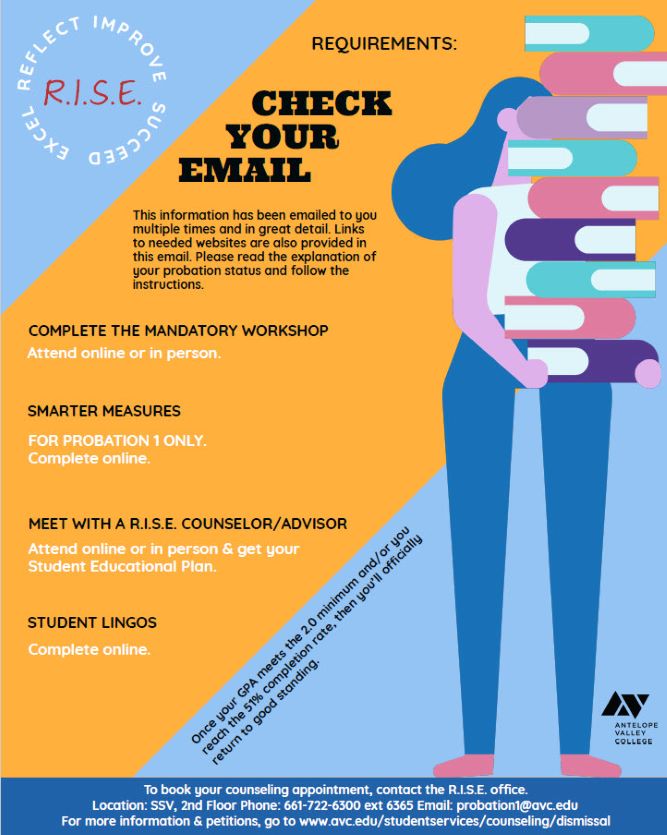 R.I.S.E. Brochure - Download and utilize to help start you on the path toward greater academic success.
R.I.S.E. Requirements- Download the summary of requirements for all probation statuses. Details are provided in the emails sent to students with next step instructions. 
Dismissal Appeal- A student will be dismissed when on Academic Probation or Progress Probation for three consecutive semesters.  If this appeal is submitted and approved, the student will avoid dismissal from the college and continue onto the next term.  There are other requirements to be completed if the appeal is approved.  Contact the RISE office for the additional requirements.  
Reinstatement Petition - A student who has been dismissed from the college, and desires to return, this petition is required.  If approved, there are other requirements to be completed before enrollment into a term.  Contact the RISE office for the additional requirements.  
Review By Dean - A student may request for an increase in maximum units allowed for a term, probation/dismissal status, and/or permission to enroll in intersession/Summer term with this petition.  
Smarter Measure - The Learning Readiness Indicator is an assessment meant to be an interesting experience by which you may learn more about yourself.  It will take you about 45 minutes from start to finish, but you may log out and complete it at a later time if necessary.  After completing the assessment, you may follow the same instructions to review your results in the future. Smarter Measure is a tool that will help you assess your strengths and opportunities for growth related to academic success in seven different areas  
Student Lingo - On demand student success workshops with videos to teach strategies to help in college. Access the workshops 24/7 from anywhere.
Petition to Take a Course for the Third Time - A student must receive permission from Admissions and Records to attempt a class for the third time. Complete the "Petition for Extenuating Circumstances" form and return it to Admissions or email it to registration@avc.edu. 
Probation/Dismissal Workshops
Our workshops are designed to assist students who are having difficulty with successfully maintaining a "good standing" status in their academic/progress achievement. The purpose of the workshop is to understand your academic record, evaluate your academic situation, create SMART goals and develop a Plan of Action.  By the end of the workshop, students are empowered with tools, strategies, advisement, and specific goals to get back to good standing with the college.