Get Connected with what is happening on campus! Subscribe to the Student Life & Activities Calendar: http://bit.ly/AVCStudentLifeEvents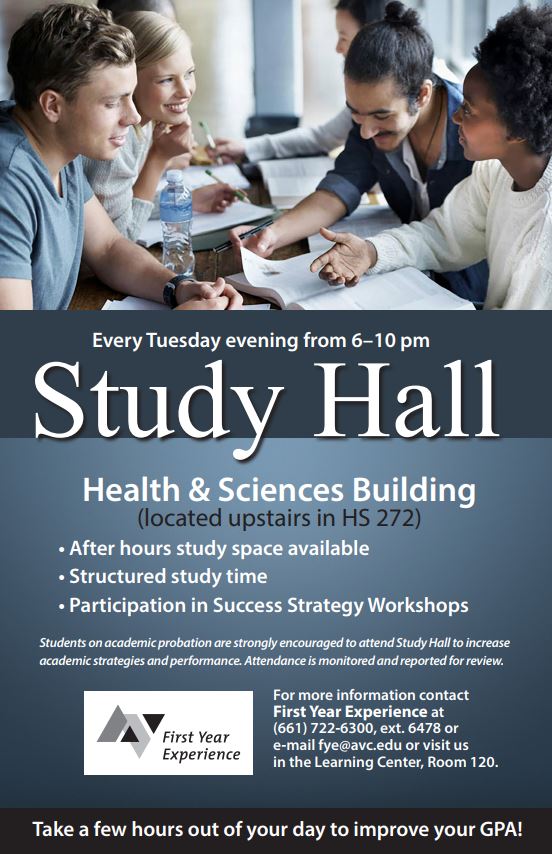 Need a place to study during the evenings? 
Join us for late night Study Hall every Tuesday evening from 6-10 pm!
Location: Uhazy Hall Building (upstairs in UH272)
After Hours Study Hall 
Structured Study Time 
Great location for Study Groups
Take a few hours out of your day to improve your GPA!
*Note: Students on Academic Probation are encouraged to attend study hall to increase academic strategies & performance! Attendance is monitored & reported for review.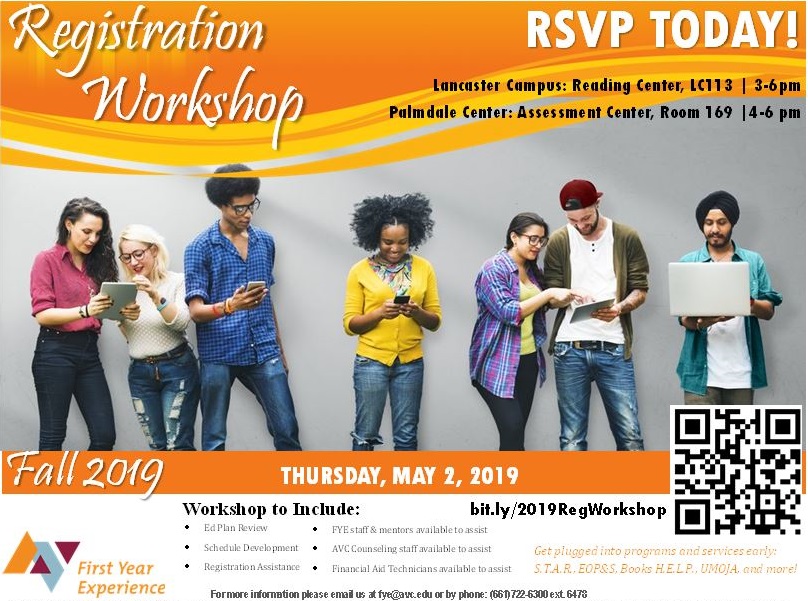 Registration Workshop 
Thursday, May 2, 2019 
Lancaster Campus: Learning Center, LC113 | 3-6 pm
Palmdale Center: Assessment Center | 4-6 pm 
Workshop to Include: 
Ed Plan Reveiw | Schedule Development | Registration Assistance
FYE Staff, Mentors, Counselors, & Financial Aids Technicians available to assist 
Get plugged into programs and services early: S.T.A.R., EOP&S CARE, Books HELP, Umoja and More!
RSVP TODAY! http://bit.ly/2019RegWorkshop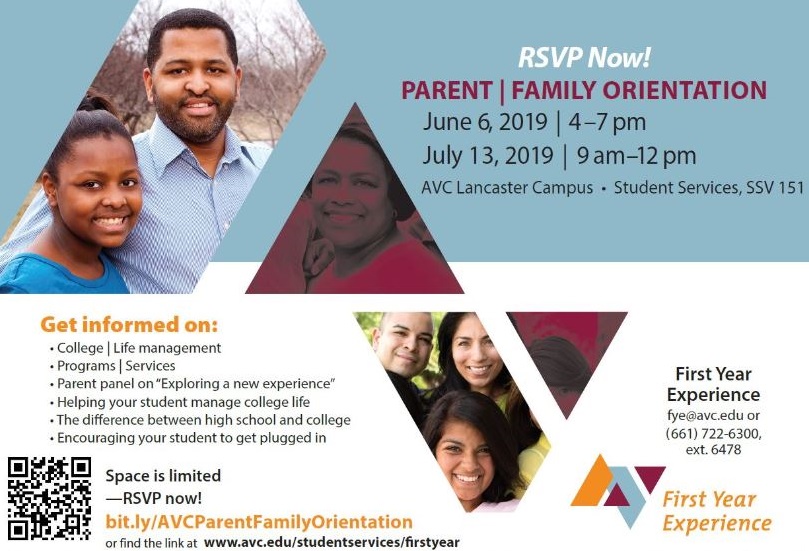 Parent & Family Orientation 
June 6,2019 | 4-7pm & July 13, 2019 | 9am- 12pm 
AVC Lancaster Campus ( Student Service, SSV151)
Get informed on: 
College & Life Management, Programs & Services, Parent panel on "Exploring a new experience", Helping your students manage college life, The difference between high school & college, Encouraging your students to get plugged in.
Space is limited - RSVP now!
http://bit.ly/AVCParentFamilyOrientation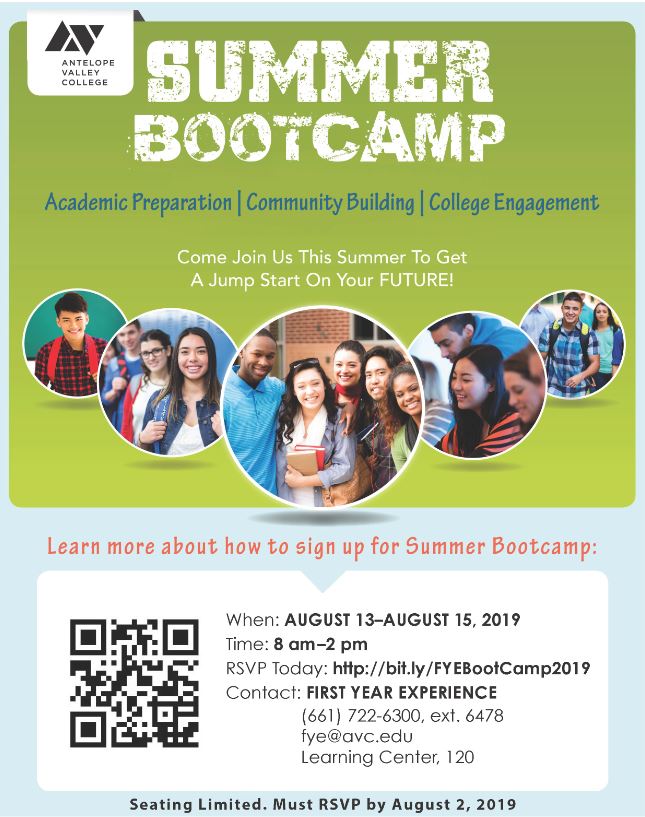 Summer Boot Camp 
Academic Preparation | Community Building | College Engagement 
Come join us this summer to get a jump start on your future! 
When: August 13- August 15,2019 | Time: 8am-2pm 
RSVP Today: http://bit.ly/FYEBootCamp2019
Seating Limited. Must RSVP by August 2,2019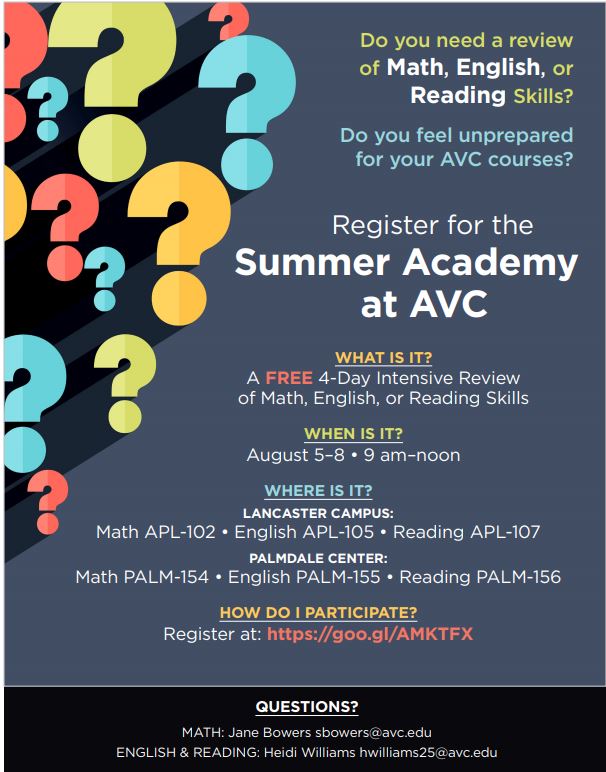 Do you need a review of Math, English, or Reading Skills? 
Do you feel unprepared for your AVC courses? 
Register for the Summer Academy at AVC
 A Free 4-day Intensive Review of Math, English, or Reading Skills 
 August 5-8 | 9am-noon 
Lancaster Campus: Math APL-102 | English APL- 105 | Reading APL- 107 
Palmdale Center: Math PALM-154 | English PALM-155 | Reading PALM-156
Register at: https://goo.gl/AMKTFX
Questions? Contact: 
Math: Jane Bowers | email: sbowers@avc.edu
English & Reading: Heidi Williams | email:  hwilliams25@avc.edu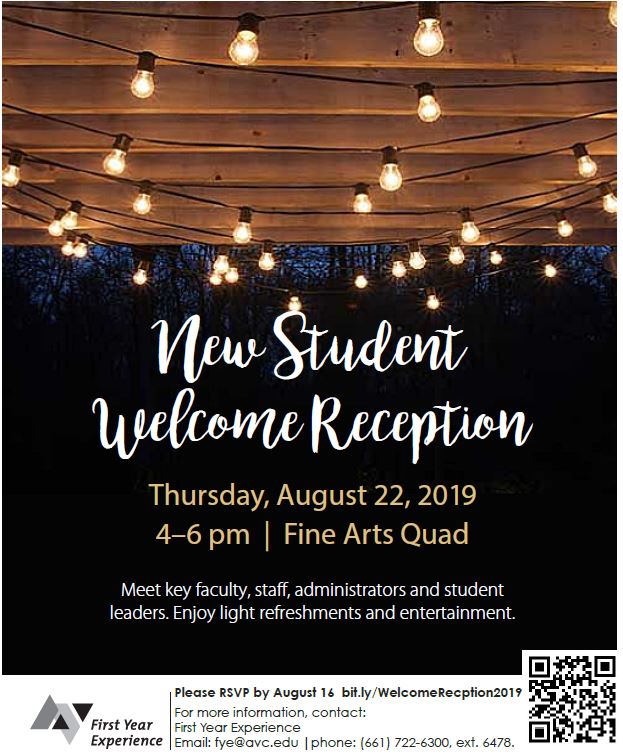 New Student Welcome Reception
Meet key faculty, staff, administrators and student leaders. Enjoy light refreshments and entertainment. 
Thursday, August 22, 2019 | 4-6 pm | Fine Arts Quad
Please RSVP by: August 16,2019  | http://bit.ly/WelcomeReception2019