Get Connected with what is happening on campus! Subscribe to the Student Life & Activities Calendar: http://bit.ly/AVCStudentLifeCalendar
Upcoming Events:FALL 2017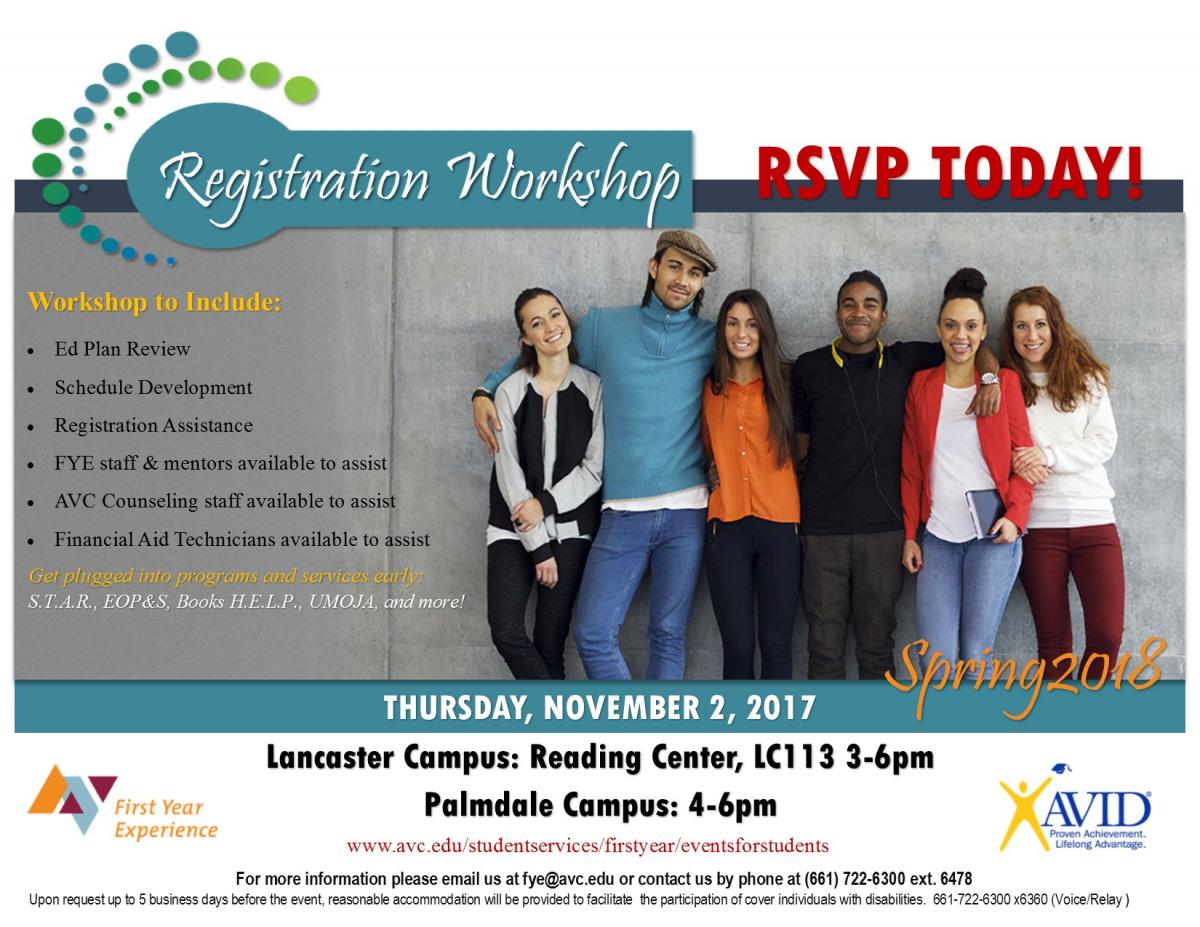 Spring 2018 Registration Workshop
Thursday, November 2, 2017 
Lancaster Campus: Reading Center, LC113 3-6PM
Palmdale Campus: 4-6PM  
Workshop to Include:
EdPlan Review 
Schedule Development 
Registration Assistance 
FYE staff & mentors available to assist 
AVC Counselors available to assist 
Financial Aid Techs available to assist 
Get plugged into programs & services early: 
S.T.A.R., EOP&S, Books H.E.L.P., Umoja and more! 
Upon request up to 5 business days before the event, reasonable accommodation will be provided to facilitate the participate of cover inidividuals with disabilities. (661)722-6360 (voice/relay). 
Click here to RSVP:  https://docs.google.com/forms/d/e/1FAIpQLSfvT2sNEatbusMCs7hNQS77WVZhiGmtBAY5GdanEKl5C359rw/viewform?usp=sf_link

"Lunch & Learn" Series 
12:30-1:30pm (Success Center/ LC113) 
The series begins Thursday, October 17,2017. 
Following meetings are every 3rd Thurday of the month: 2/15,3/15,4/19/2018
Come share and collaborate with fellow colleagues in assisting students to achieve academic success.
Topics for discussion are determined by the faculty at each meeting.
Bring your lunch, your ideas, and your classroom strategies for student success. Let's Learn Together!

Hispanic Association of Colleges & Universities 31st Annual Conference-Opportunity for AVC Students to Attend! 
October 28-30, 2017 in San Diego, CA  
Limited Space Available.  
-APPLICATION CLOSED-