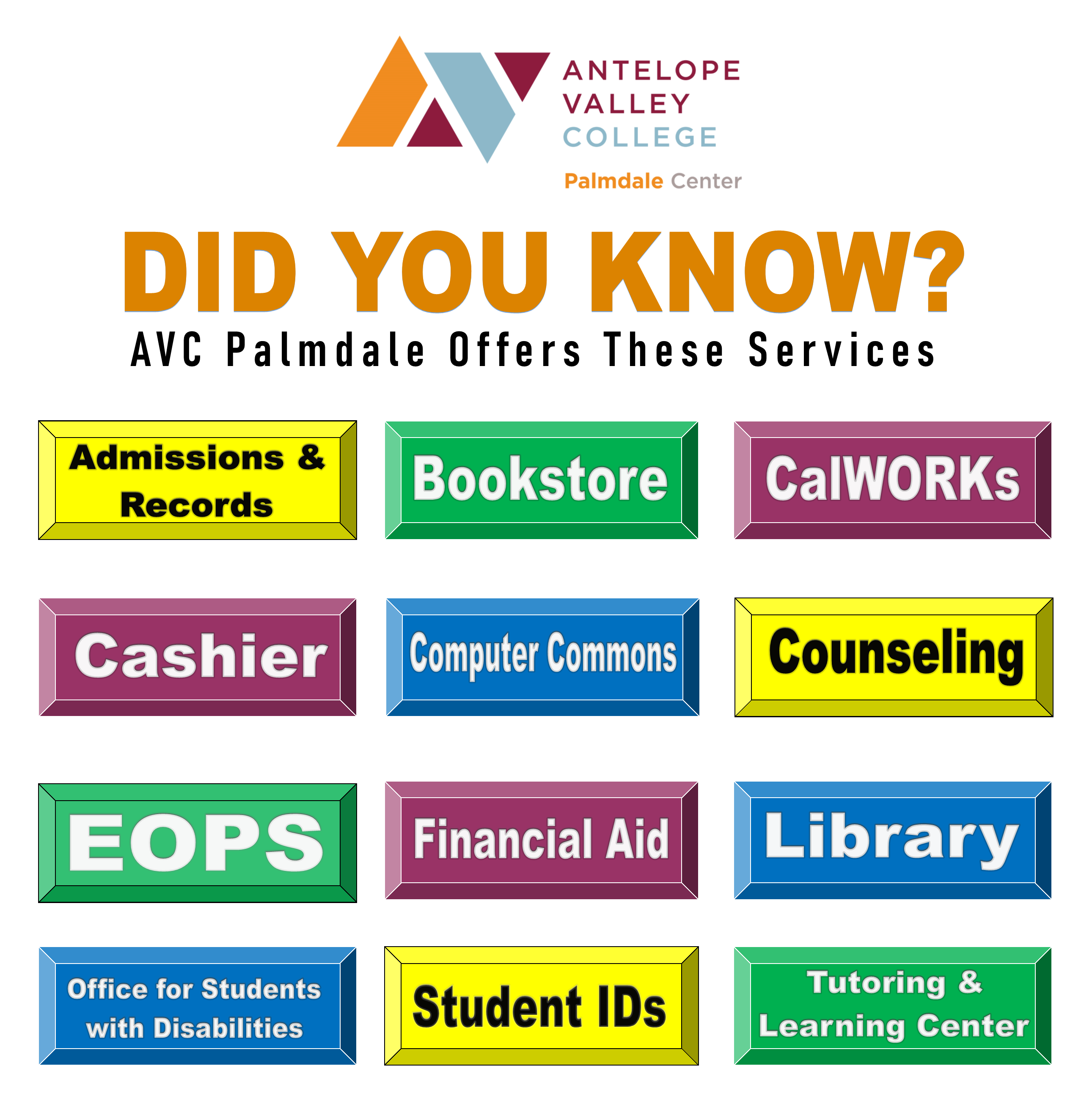 Antelope Valley College Palmdale is located at 2301 E. Palmdale Blvd. To reach the Palmdale site by phone, dial 661.722.6400 Option 1. 
Both in-person and virtual services at AVC Palmdale Center are available!
Palmdale Center hours are Monday – Thursday, 7:30 am – 6 pm and Friday, 7:30 am – 11:30 am.
Services include counseling appointments, student IDs, limited enrollment services assistance, transcripts, financial aid, library, general information, and more. Hours for services may vary.
Before returning to campus, please refer to the latest COVID-19 guidelines. https://www.avc.edu/covid-guides
---

Like and Follow @avcpalmdale:
---
Upcoming Events
AVC Maruader Market (Dates below)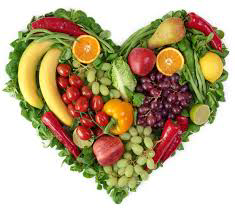 Help yourself to a prepared bag of FREE fresh fruit and veggies! Located at the Palmdale Sidewalk (between the Admin and Instruction building)
DATES 2023:
January 12th and 26th
February 9th and 23rd
March 9th and 23rd
April 13th and 27th
May 11th and 25th
June 8th and 22nd
July 13th and 27th
August 10th and 24th
September 7th and 21st
October 12th and 26th
November 2nd and 16th
December 7th and 14th
Please practice the preventive measures (masks and social distancing), and stay safe.
Registration
If you have not submitted an admissions application for Antelope Valley College, you may apply online right now. Registration for classes is easy using myAVC.
NEW STUDENTS PLEASE JOIN US FOR OUR STUDENT SUCCESS WORKSHOPS!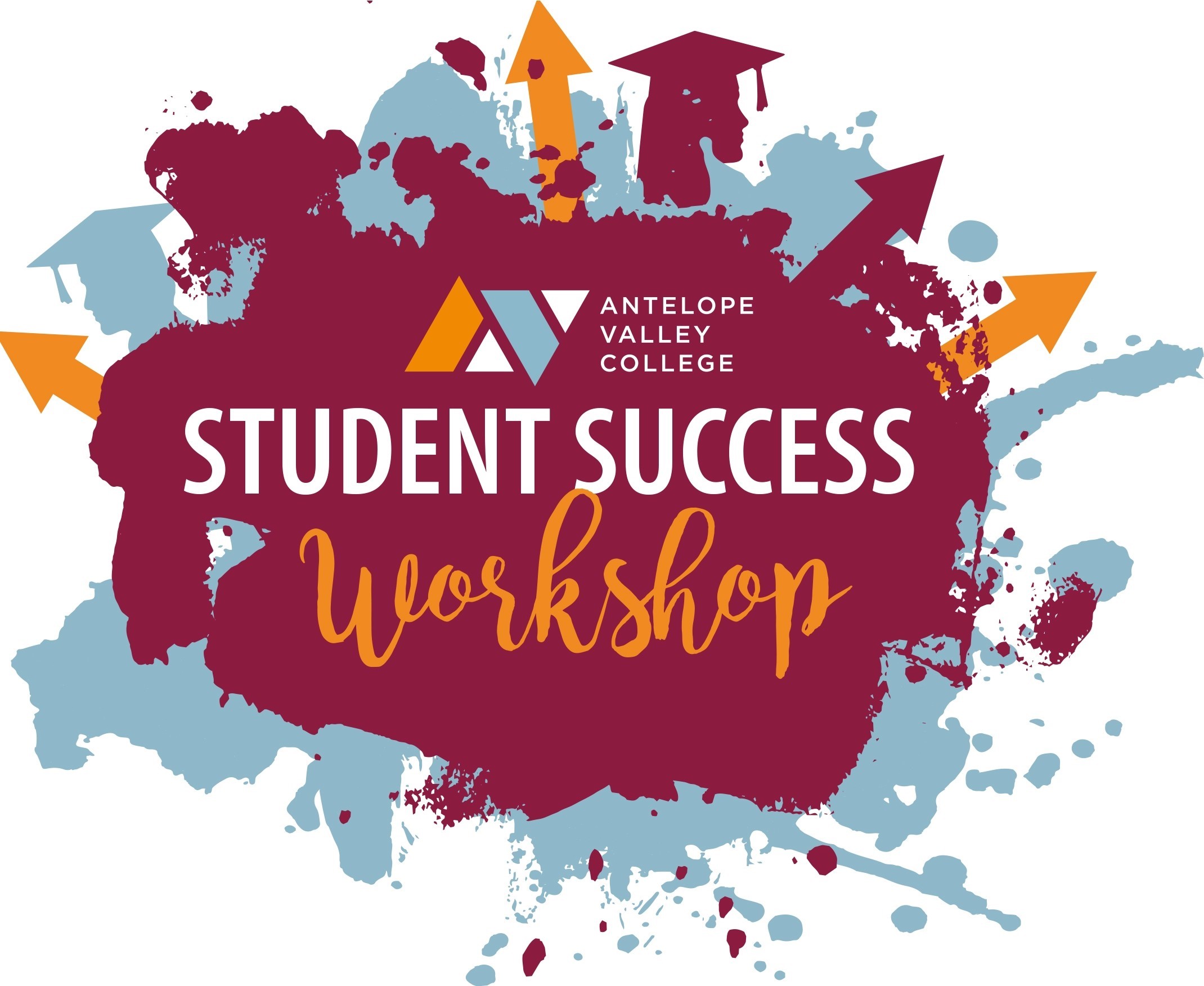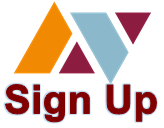 call 661.722.6300 ext.6331
Health Services
Medical, Dental, Vision and Mental Health services are available for currently enrolled students as well as health education and prevention activities. Students are required to pay the Student Health fee each semester or term.
 
NEW!  TeleMed and Telecounseling Services for students 
Antelope Valley College now offers 24/7 medical and mental telehealth for students
Antelope Valley College is excited to offer a new telehealth program for students this fall called CA Students Care. The service will provide access to 24/7 medical and mental telehealth care across the United States, with no cost at the time of visit!
Whether you're feeling sick or overwhelmed, you will be able to talk to a licensed provider from your smartphone or any web-enabled device. Licensed providers are available to diagnose non-emergent medical conditions, prescribe medications and offer mental health support via phone or secure video visits. Below are a few FAQs about CA Students Care.
Q. Who can use CA Students Care?
A. Any Antelope Valley College student, whether you are accessing instruction in person or remotely.
Q. What services are available?
A. There following services are available to all students:
Medical: 24/7, on-demand access to a medical provider that can treat a wide range of common illnesses like cold and flu, sinus infection, allergies and more
TalkNow: 24/7, on-demand access to a mental health professional to talk about anything at any time
Q. How can students access CA Students Care?
A. You can go to  www.CAstudents.care  to register for and access telehealth services. You can then have visits from any web-enabled device throughout the United States – smartphone, tablet, laptop, or desktop. You must use your legal name as listed in Banner to create a profile. You may then change to a preferred name.
Q. How much does a visit cost?
A. There is no visit cost for Antelope Valley College students.
Q: Can CA Students Care services diagnose COVID-19?
A: CA Students Care will virtually assess symptoms and administer frontline care in a contained environment to limit the spread of illness. They will also give recommendations on need for testing vs. self-quarantine, and where to go if testing or further care is needed.

Please visit the schedule of classes and select "Palmdale Center" in the "Location" selection box.