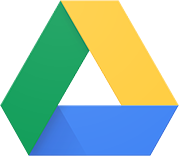 Store any file
AVC Drive nearly unlimited online storage, so you can keep photos, stories, designs, drawings, recordings, videos – anything.
See your stuff anywhere
Your files in Drive can be reached from any smartphone, tablet, or computer. So wherever you go, your files follow.
Share files and folders
You can quickly invite others to view, download, and collaborate on all the files you want–no email attachment needed.
Google Drive Guides
Please visit the G Suite Learning Center to find step by step guides for using Google Drive.
Google Drive is mobile ready
As a feature of Google Apps for Education, you can access your Drive from any mobile device — phone or tablet — without a third party syncing tool. Download the Google Drive app and sign in using your AVC email address and myAVC password.