Welcome to Antelope Valley College's Student Equity Department  
---
Student Equity Staff:
---
Office Location: SSV-180 (Student Services Building, First Floor, Room 180)
Email: Student_Equity@avc.edu
Phone: 661.722.6300 ext. 6375
PROGRAM EMAILS:
Guardian Scholars: guardian_scholars@avc.edu
Books HELP: bookshelp@avc.edu
AVC Umoja Community: avcumoja@avc.edu
Focus 180: Focus180@avc.edu
Student Equity Committee Meeting Information:
Student Equity Committee Meetings are held on the 2nd Tuesday of each month. To get additional information on this committee, please email Student_Equity@avc.edu 
---
Student Equity Zoom Front Desk
The Student Equity Department front desk services are also available online via Zoom!
Come and chat with a LIVE person DAILY on the Student Equity Zoom Front Desk.
Monday - Thursday | 8 AM - 5:30 PM
Friday | 7:30 AM - 11:30 AM 
avc.zoom.us | Meeting ID: 998 0410 2077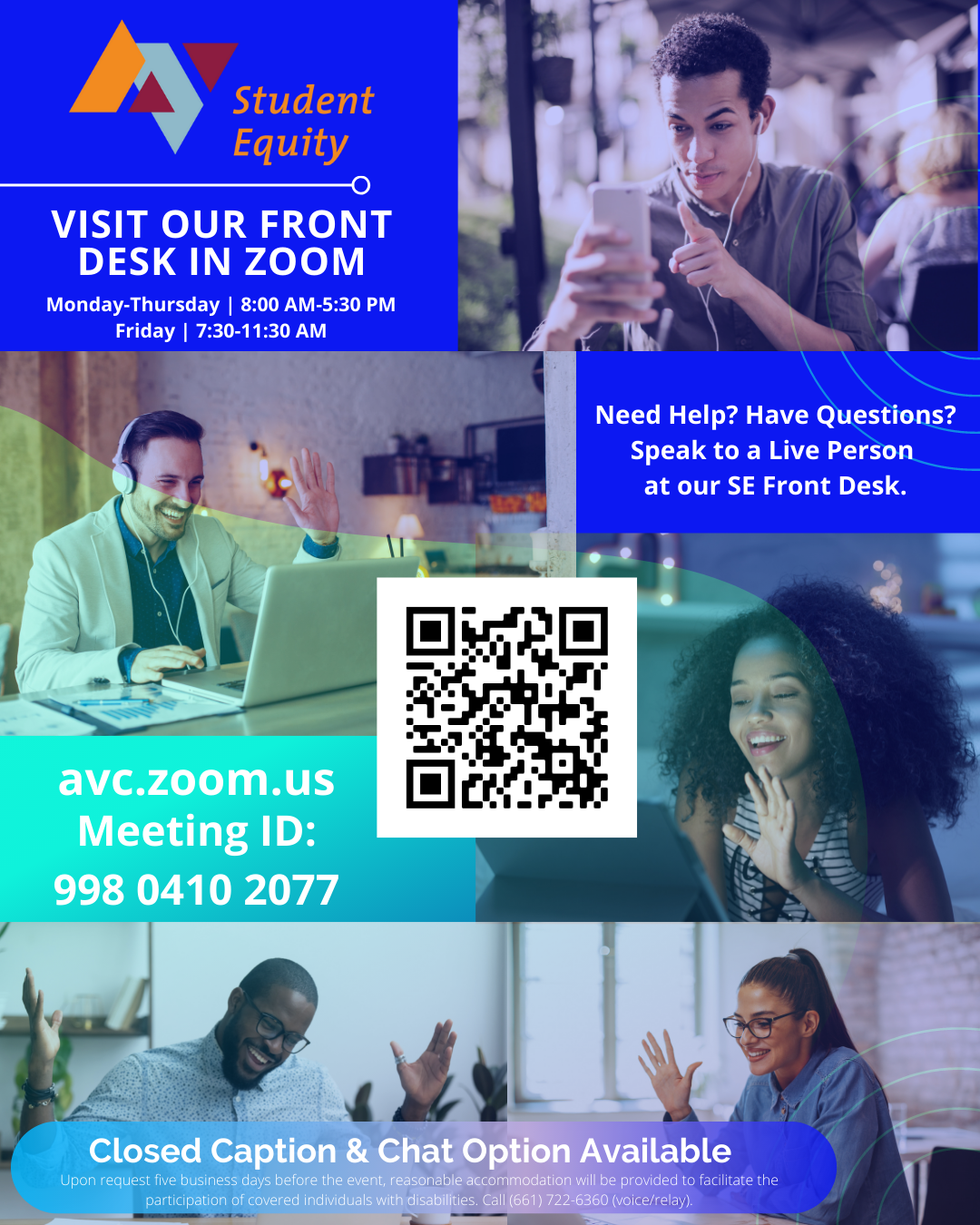 ---
Student Equity Cranium Café
Cranium Café is a web-based service that uses webcam and audio to supplement the in-person Student Equity experience. With a full-service, online appointment, it allows students to connect with staff.  Online CHAT is also available for students to ask quick and general Student Equity questions.  
Cranium Cafe Basic Instructions:
Video Meeting Requirements:

Use a smartphone, tablet, laptop or desktop computer which has Chrome or Firefox as your web browser (Chrome is preferred)

Shut down all other webpages for a faster connection
Have a microphone and webcam activated
Test your webcam and audio prior to the meeting here https://my.craniumcafe.com/pre-meeting-check
Please review appropriate Netiquette (screen reader version) 
If the Informed Consent Box is not fully visible, please your browsers zoom function for a smaller setting.    
How to initiate a Walk-in Session:
Step 1: Click the "Knock on Door" button on the staff member's Cafe card
Step 2: Current students should login with your student ID and prospective student can create an account through the login page
Step 3: Wait for the pop-up chat window to appear to start the session
Step 4: Click on the Enter Meeting or Enter Lobby button within the chatbox
Student Equity Staff on Cranium Café
Rashall Hightower, Director, Student Equity
Crystal Garcia, M.S., Program Specialist