Archives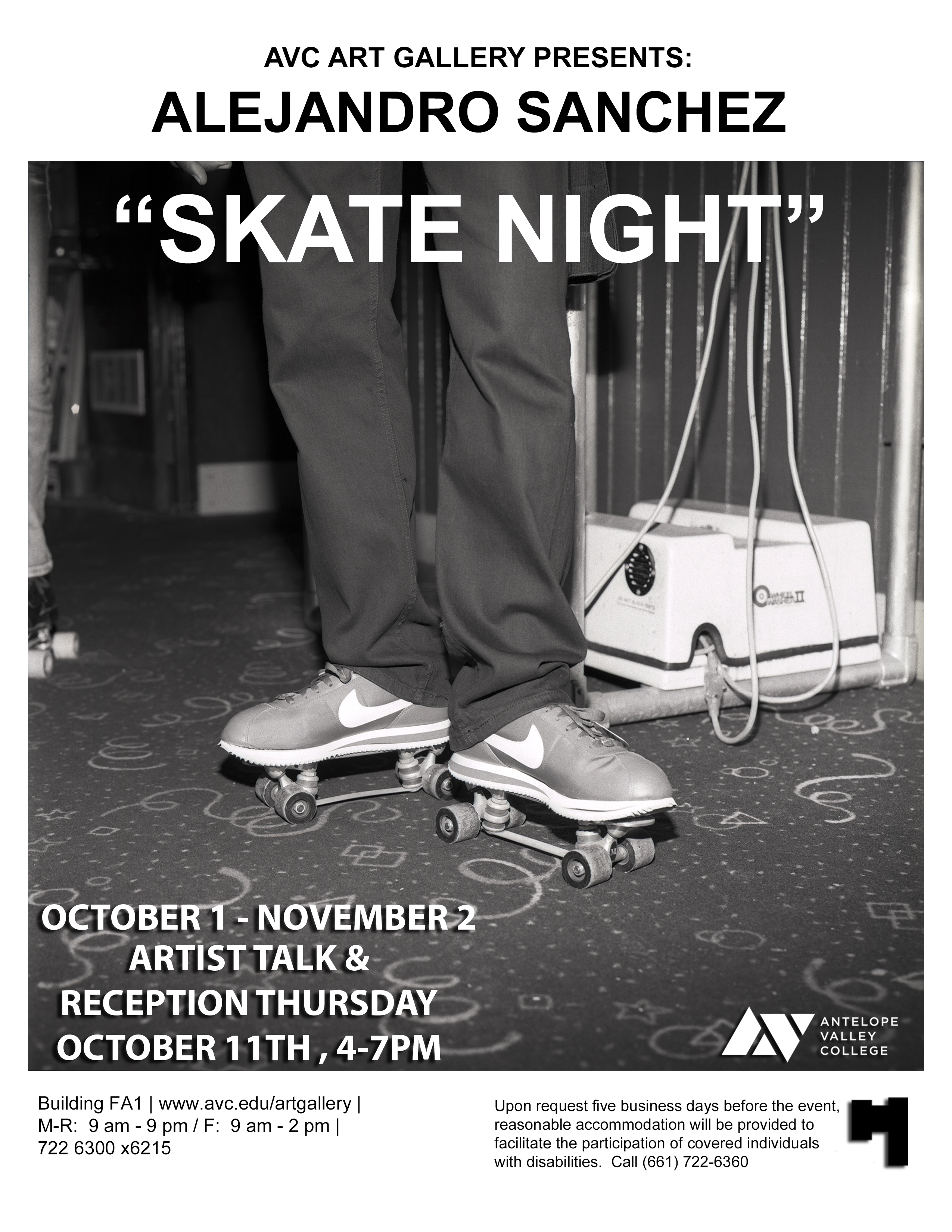 Alejandro Sanchez "Skate Night"
October 1 - November 2, 2018: 
RECEPTION:  Thursday, October 11, 4 – 7 pm,
Alejandro is a visual artist based out of El Monte, California. He received both his BFA and MFA from Cal Arts. Currently, Alejandro is an adjunct professor of art at multiple colleges in Southern California including; Chaffey College, Cypress College, Cerritos College and Cal Arts. Alejandro is an international exhibiting artist as well, with multiple solo and group shows under his belt.
Alejandro's current body of work is a documentary style photographic project about a specific style of roller-skating primarily found in the African-American community. The images are portraiture in nature, but are far from stereotypical. They capture many special moments that give us the viewer of a sense of place that is one full of community and camaraderie. The images also work in part as historical documents due to the fact that many of these rinks are no longer around. The work by Alejandro is important because it is not only preserving these rinks for the historical record, but they also capture the African-American community in a positive light. The images provide a close up insight into a culture that is as exciting as it is welcoming. **All images are hand printed gelatin silver fiber prints.

Donel Williams' "Home"
August 27 - September 21, 2018: 
RECEPTION:  Thursday, September 20, 4 – 7 pm,
Donel is a Los Angeles based artist, and is a graduate from UCLA. The majority of his work deals with the relationship he had with his father, and more recently coping with the loss of his father. Though Donel started out his art career as a photographer, this show takes a more painterly turn. Utilizing abstract strokes as well as unconventional techniques, Donel manages to reference many of those final moments he shared with his father, as he was bed ridden. References from light and shadow, to fluids and the machines the came from, Donel makes a human connection in each painting. Also included in the exhibition is a video that is as real as it is abstract, all the while drawing back to his relationship and the inevitable loss of his father.
SUPER BLOOM: Friends of the Gallery - 2017 Members Exhibition
November 20 - December 6, 2017: 
RECEPTION:  Tuesday, November 28, 6 – 8 pm, with musical performance by Bill Davila and the AVC Guitar Ensemble
We want to celebrate your work!  Whether you are a career artist or just beginning to explore your artistic side, all are welcome to submit one work when they support Friends of the Gallery.  As a showcase for new and developing work, we hope this event will cultivate a dynamic exchange between our local artists and the broader community.  This year's title, Super Bloom, is inspired by the energy, vitality, and bravery of AV's local artists, whose practices provide a source of inspiration and mentorship for AVC's young artistic and academic community.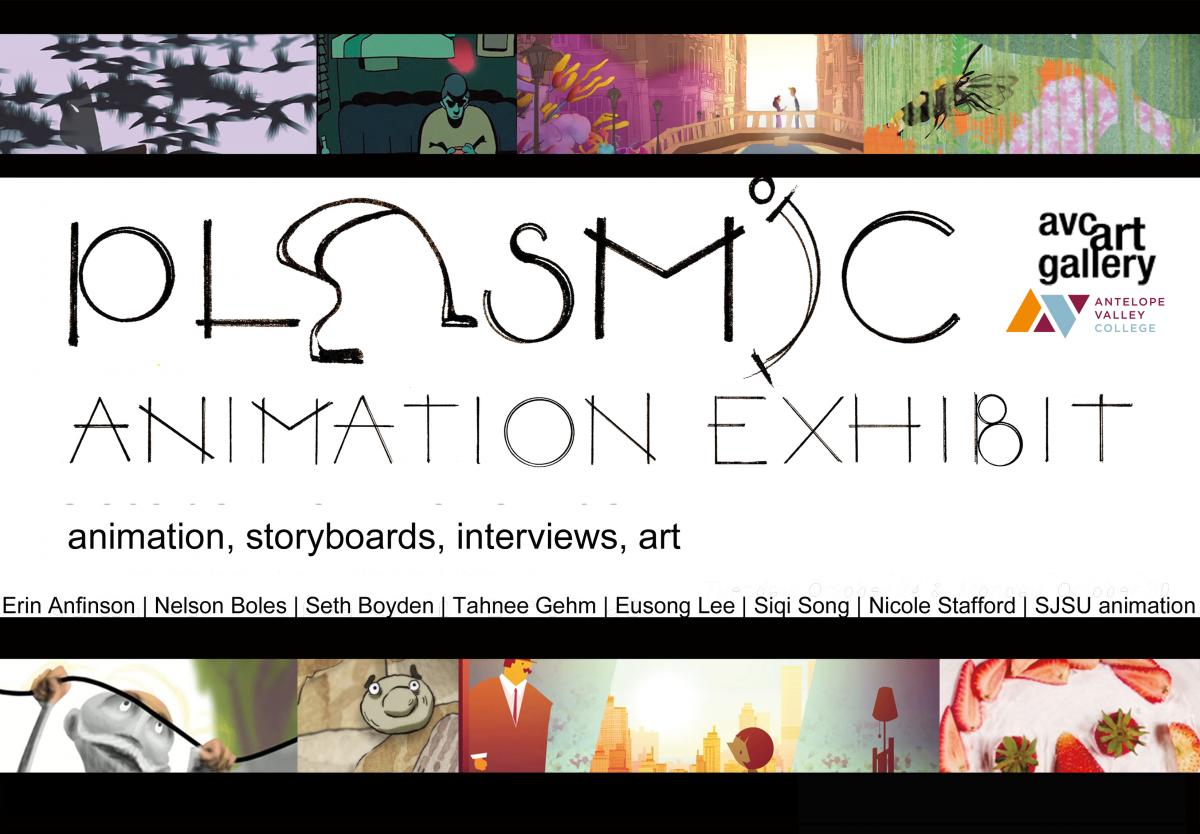 PLASMIC ANIMATION EXHIBIT
October 18 - November 17, 2017: 
THEATER SCREENINGS:  Tuesday, November 7 & Thursday, November 16, 6 pm
DESERT CRAZY  & you draw i draw
These two collaborative drawing events were coordinated in association with The Big Draw LA, a regional celebration of the act of drawing.  DESERT CRAZY constructed a collaborative still life with live models as a way to explore, parody, and even celebrate those persistent myths about the desert and its crazy inhabitants.  The drawings created by participants from DESERT CRAZY are still on display in the gallery.  For you draw i draw, Laurel Siler orchestrated a giant collaborative drawing that combined fabric, embroidery, and participants' personal responses to making a mark.   Laurel Sliler's completed work from you draw i draw will be debuting on campus in the near future (unveiling date and time TBA).
Professor RICH SIM Retrospective: 50 years of teaching and creating art at Antelope Valley College
This 50 year retrospective celebrates the art, teaching, and legacy of one of Antelope Valley College's most legendary professors.  Professor Rich Sim's art courses and ceramic workshops have long served Antelope Valley's community as a powerhouse of inspiration, healing, and worldly wisdom.  This exhibit includes ceramics, photography, poetry, and digital art spanning across Rich Sim's prolific career.  A video piece created by Rich Sim for this exhibition reflects on how the topography of the AVC classroom and Antelope Valley as a whole has evolved over the past five decades.
  WANDERLUST:  Travel as Muse in the 21st Century
  Glen Knowles  |  Jeff Curto  |  Jodi Champagne
All Who Answer:  Veterans' Art Exhibit
All Who Answer celebrates the creative insight of our veteran community and showcases the unique voice of "all who answer our nation's call".  The generous and stunning contributions from our veteran artists are a testament to their continual impact on our lives.
Eyes of Freedom
This travelling memorial of 23 life-sized portraits by Anita Miller depicts the fallen Marines and Navy Corpsmen of Columbus, Ohio-based Lima Company 3/25, one of the most heavily engaged units of Operation Iraqi Freedom.  This powerful tribute honors "All Who Answer Our Nation's Call:  Then, Now, and Tomorrow."  Eyes of Freedom makes its Southern California debut at the Antelope Valley College Art Gallery before continuing to travel throughout the state.
 Intelligence:  A Mute Beauty
Intelligence: A Mute Beauty delves into the developing aesthetic of fashion designers Ivan and Gustavo Rodriguez Delgado.  This exhibit features four consecutive collections that implement and combine tailoring techniques with advanced artistry haute couture.  Each successive collection forms a unique meditation on the power of the mind, human perseverance, and diverse concepts of intelligence.
  Friends of the Gallery 2016 - Atmosphere

Terra Cognita: Cartography and Art
Maps acts as backdrops for statements about political boundaries, territoriality, and other aspects of power and projection. The shared linguistic codes of cartographers and artists reflect on space and abstraction, and the line and shape of the map's vocabulary. Featuring work by Bruce Bartrug, David Deis, Wendy Gilmartin, Christine Mugnolo, Brian Palagallo, Shelly White as well as material from the Map Library, California State University, Northridge, Terra Cognita explores the metaphors of order to chaos, ratios of scale, location and dislocation, and charting new terrains.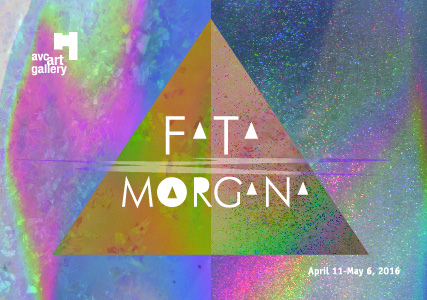 Fata Morgana
The fata morgana mirage bends light to make objects "appear" in the sky, a wonderment of science documented by early artist engravings. Blurring the line between fantasy, mythology and factual observation, the fata morgana exemplifies how we use representation and metaphor to bring "unseen phenomena" or the imaginary into reality. The discourses of consciousness, embodiment, and presence, and the conventions and paradoxes on which this depend find shape and form in the artistic works of Leonora Bustamante Sauma, Nicelle Davis and Cheryl Gross, and Chris Natrop. This exhibition will turn the gallery into a reflective in-between space where real and mythical cityscapes, ghosts, and sirens exist in the imaginative, speculative and undefined paraspaces of our worlds.
Portrait & the Primordial
Portrait & the Primordial examines the fraught relationship between portraiture, excess, and the grotesque in contemporary painting. Together, Adrian Cox, Vida Liu, Jordan McGirk, and Michael Stillion address a rich cross section of concepts about consumption, flesh, and the figure to question how we construct contemporary identity. While diverse in their practices and concepts, these artists connect visually through compositions that appear to burst, ooze, pullulate, and decay. Each artist hinges this visual method to the concept portraiture, quoting the genre through composition and probing into theories of likeness.  Invoking the plastic qualities of paint and regenerative powers of portraiture, these works hover in a state of becoming. These often unnerving image, sparking both horror and empathy, give physical form to a messy, aggregate state of identity.
SALAMANDER ADVENTURES 
Tula the Salamander and Bugley the Beetle take their travel escapades to the AVC Art Gallery in Salamander Adventures.  Experiencing the wonders of the natural world and braving the elements together, Tula's and Bugley's close friendship embody the childhood experiences of artist Chelsea Kowitz.  Kowitz brings these characters and their obstacles to life through short movies and meticulous installations.  Working with felt, polymer, stone clay, and embroidery floss, Kowitz uses craft-based materials to create the sense of whimsy that reflects her memories.  As explained by Kowitz, "Tula and Bugley can conquer any obstacle together, and they find joy in simple pursuits; they embody the history of my childhood as well as inspiration for future adventures."
Making Place
Making Place explores the many aspects—physical and conceptual—that we use define and situate place and space. Place fluidly glides through our personal narratives, neighborhoods, national pride, planet, and solar system to expand and contract with our physical becoming and conceptual perspectives. The artwork and ideas represented are from the individual frames of six artists Nuri Amanatullah, Sarah Donaldson, Margarethe Drexel, Jenny Kane, Beth Ann Morrison, and Christine Mugnolo who chart how we discover and map our spatial settings, and continuously make our place.
David Babb: Between Place and Memory
David Babb's recent bodies of work use the changing landscape of nature and place as a metaphor to express how we perceived and project our individual identities, histories, and memories.  The works invoke the wavering stripes between the earth and the sky, questioning the roaming nature of our perspectives as we move from childhood into our adult lives to envision the residue between the lines of these horizons as dependent on our experiences, location, history, recollection, and momentary personal identities.  Crossing between the visual language of portraiture and landscape, representation and the abstract, his practice overlaps a sense of identity with the interconnected and communal experience of nature and its reflective awareness of shared or private moments that write our narratives.
Written in the Stars: The First in a Series of Exhibitions on Arbitrary Systems
What would an exhibition look like completely divorced from curatorial subjectivity? What kind of discourse can rise from a group of artworks that is brought together, not by one person's interests and preferences, but by chance, play, and perhaps a little divine intervention? As a way of thinking outside of a traditional relationship of dependency – artist on curator, curator's discourse upon artwork – guest curator Kellie Lanham introduces a series of exhibitions brought together through an application of arbitrary systems. 
See more
MONSTERS and HYBRIDS:  CREATURES of IMPULSE
Stemming from practices in Hollywood, contemporary fine art, illustration, and digital media, the artists of Monster and Hybrids:  Creatures of Impulse share a compulsion for inventing and reformulating biological forms.  This exhibition examines the conceptual processes and imaginative mechanisms these artists use to forge meaning through this practice.  
See more
PhotoVoice: Look at Me – Disregard the Labels
PhotoVoice pairs photographs and narratives to express the stigma, prejudice and discrimination personally experienced by those who live with mental illness. Organized by Mental Health America and created by its participants, this grassroots movement is both expressive and educational, granting a voice to those not typically heard in public discourse or debate
See more
GIGANTOMACHY
Gigantomachy explores how artists conjure fantastic characters and surreal interactions to echo the emotional experiences that punctuate daily, domestic existence.  These works by Jamie Combs, Dara Engler, Tom Miller, and Kate Savage playfully engage the way in which we attempt to conceive our own character arcs and narrative progression through the grander storylines of our shared cultures.
See more
California State Prison Los Angeles County: Progressive Art Program
California State Prison-Los Angeles County Chaplain Abdul-Wahab Omeira, a coordinator for the CSPLAC Progressive Art Program, has arranged for the donation of a collection of artwork from the program to be sold as a fundraiser for the Antelope Valley College Foundation.  Artists in the program have chosen to donate the proceeds of their work toward the AVC Foundation in support of AVC students. 
See more
UNDER CONSTRUCTION
The Antelope Valley College Art Gallery is excited to present UNDER CONSTRUCTION, a group exhibition of works in progress.  Each artist's installation includes various materials, including preliminary works, sketches, notes, and research material, to demonstrate their cognitive process and studio practice. 
See more
Lines that Matter: Marthe Aponte
The Antelope Valley College Art Gallery is honored to present Lines That Matter, a solo exhibition by Marthe Aponte.  Although a long practitioner and collector of visual art, Aponte's most recent commitment to the studio over the last few years has resulted in an explosion of new and evocative work.  While "retrospective" seems too heavy-handed a term for such up and coming work, Aponte's breadth and insightful development signal the reflection of a mature, self-aware artist.  Both Aponte's work and biography traverse the traditional dichotomies that seemingly separate "art" from life.
See more
Cross Currents: Ji sun Park and Anthony Ragucci
The Antelope Valley College Art Gallery is proud to present Ji sun Park and Anthony Ragucci in a joint exhibition exploring their common touchstone of place, South Korea.  Originating from and now living on opposite sides of the globe, these two artists sensitively negotiate closeness and distance to understand how place operates as a conceptual medium.  The title CROSS CURRENTS refers not only to the artists' biographical geographies, but also to the transmissions and interchanges that occur between two such different yet connected bodies of work, together formulating an amorphous and evolving picture of place.
See more
Dwellings: An Exhibition of the Los Angeles Experimental Artists Group-II
The AVC Art Gallery is proud to host the Los Angeles Experimental Artists Group-II in a group exhibition of new work.  The LAEA Group-II fosters mutual creativity, with members continually learning new methods and teaching these techniques and approaches to each other. This year the artists are uniting around the theme of DWELLINGS, incorporating many different media and techniques. Dwellings evokes conceptions of abodes, buildings, and homes, but, as the German philosopher Martin Heidegger explained, this theme also includes nature (the seasons, the cycles of life, the growth of living things, etc). 
See more
VISIONETICS: The Mystique of 35 mm Film. New works by Lee Bergthold
The Antelope Valley College Art Gallery is proud to present AVC photography Professor Lee Bergthold's most recent body of works in Visionetics: The Mystique of 35 mm Film.  Bergthold offers a mysterious and mythical photographic view in his use of a manual 35 mm camera and film.  Using a manual Nikon camera, he takes various scenes of his students during classroom photo demonstrations and then re-exposes the negatives with distant locations using the same camera and rolls of film.
See more
COLLECTIVE RESIDENTS: New Encaustic Works by Erin Anfinson and Sarah Rowland
The Antelope Valley College Art Gallery is proud to present two new bodies of encaustic works by Erin Anfinson and Sarah Rowland in Collective Residents.  Employing non-traditional approaches to this wax-based media, the encaustics create a vivid, tactile dialog about interior space, accumulation, and the residue of historical events in one's life.
See more
DECONSTRUCTION | RECONSTRUCTION: Ashley Hagen
The Antelope Valley College Art Gallery is excited to open its 2012-2013 season with Deconstruction | Reconstruction, a solo exhibition by Ashley Hagen.  Her featured work, Sinister within the Sweet, outfits a tower of stacked pallets with meticulously crafted miniature interiors. Despite the tower's unstable appearance, Sinister within the Sweet prompts close investigation and initiates a quiet, nostalgic experience. 
See more
In Search of Clarity: Three Perspectives on Iran
The Antelope Valley College Art Gallery is proud to present the work of Arezoo Bharthania, Farnaz Sabet, and Shilla Shakoori in the group exhibition In Search of Clarity: Three Perspectives on Iran.  Working in installation, mixed media, and ceramics, these three Iranian-American artists explore complicated relationships with their home culture.  Confronting charged political topics, the artists sensitively navigate those fissures between cultural identity and state.  While Iran the country becomes a shifting concept that is both personal and impermeable, intimate and alien, an enduring, solid voice emerges through these works as the Iranian people.  Together, Bharthania, Sabet, and Shakoori probe the meaning and location of cultural identity under political upheaval.
See more
Wally Gilbert: Patterns and Recognition
Mr. Gilbert's explorations in photography and, more recently, in digital drawing, are often conducted in series, each tackling a specific formal challenge.  In addition to exemplifying his delight in color and form, Mr. Gilbert describes his work as a "search for depth beyond the picture plane and for mystery."  Throughout his formal investigations persists the idea of the fragment, which is detached, repeated, and restructured into rhythms and patterns. 
See more
A Trip in Paris
"A Trip in Paris" is a collaborative stop-motion animation that was conceived, drawn, and created  by Antelope Valley College students with Sarah Klein, curator and animator of the festival Stop & Go Rides Again.  The piece was created during an animation workshop lead by Sarah Klein and hosted by the AVC Art Gallery on November 18, 2011. 
See More