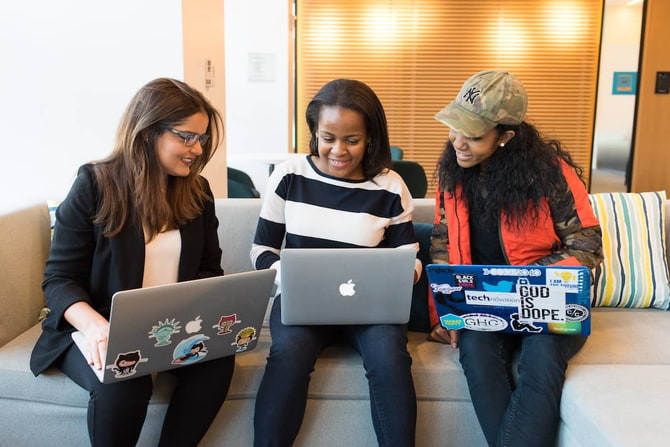 The Second Year Experience (SYE) program is designed to support the successful academic and social advancement of continuing students through to completion of their educational pathway. In collaboration with system and college initiatives such as Guided Pathways and Financial Literacy & Wellness the mission is to solidify educational pathways to careers.
The program provides registration assistance, educational advising, high engagement strategies, peer mentoring; on-going events and workshops, all aimed at giving second-year students the tools they need to successfully advance to transfer to a four year institution and/or their career of choice.
All second year students at AVC are members of the SYE program.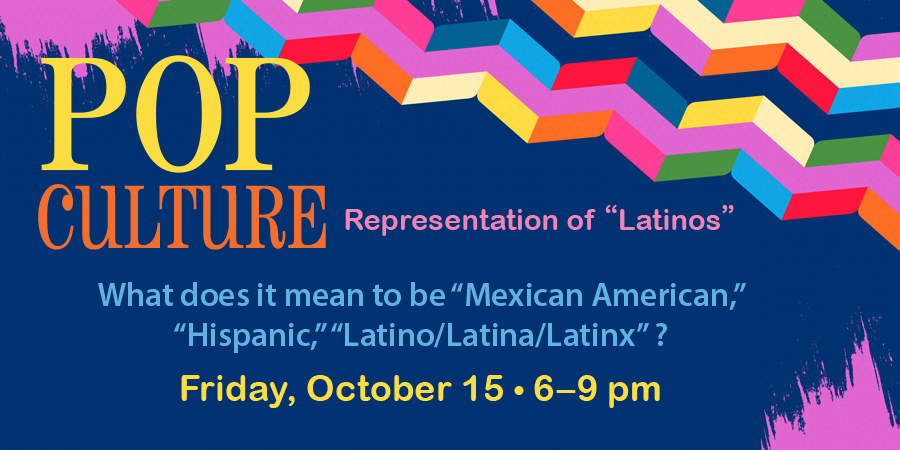 In recent years we have seen an increase in cultural representations of "Latinos" in movies, television, books and elsewhere. But have you ever considered how those artistic representations shape real people's perceptions? "What does it mean to be "Mexican American, Hispanic, Latino/Latina, or Latinx, among others?" Join us to discuss how pop cultural representations shape people's perceptions of the "Latino" community. We will speak to the varied experiences of latinidad (Latinism) and how these perceptions reinforce or deconstruct stereotypes in the U.S.
Presenter/s: Jessica Eaton, Katherine Quesada, Darcy Wiewall, Tiffany Castillejo

Join Zoom Meeting
https://avc.zoom.us/j/96740566569?pwd=YVZWYmtmcVQ4b3QweTFMdm9yNm5Vdz09

Meeting ID: 967 4056 6569
Passcode: 950613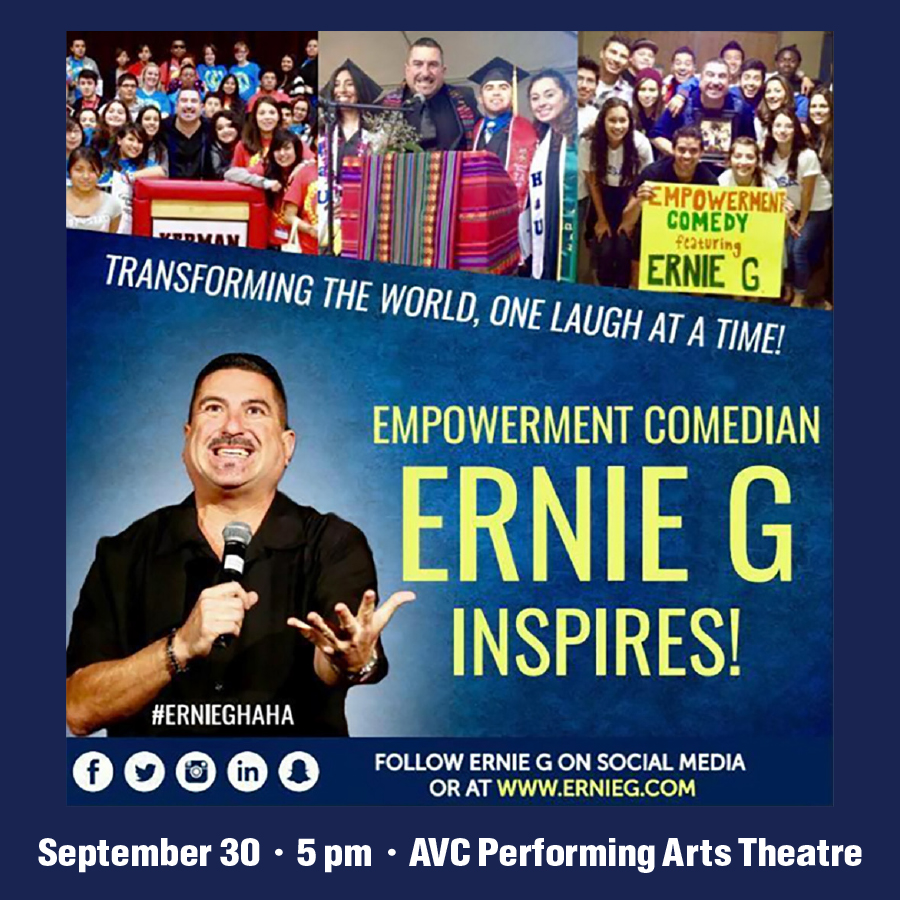 FREE COMEDY SHOW
All the way from Hollywood, Empowerment Comedian & Mental Health Coach Ernie G comes to Lancaster to share his hilarious, very personal and inspiring journey through college, tackling seemingly insurmountable obstacles through culture & comedy to eventually graduate from LMU & become one of the top speakers in the country! Reminding us all to take personal responsibility for our life: "If it is to Be, it is Up to Me!!"
This Thursday, September 30 at 5 pm in The AVC Performing Arts Theatre.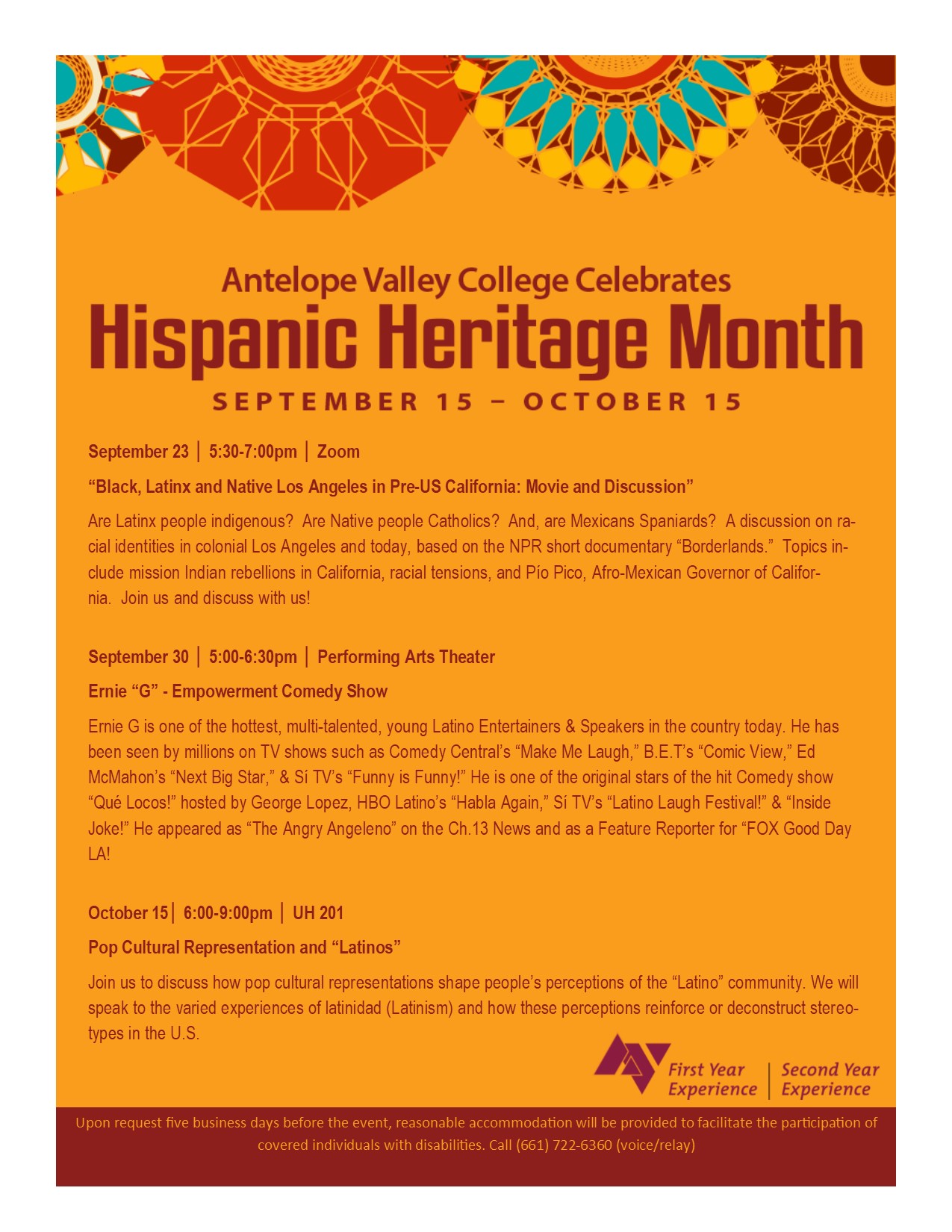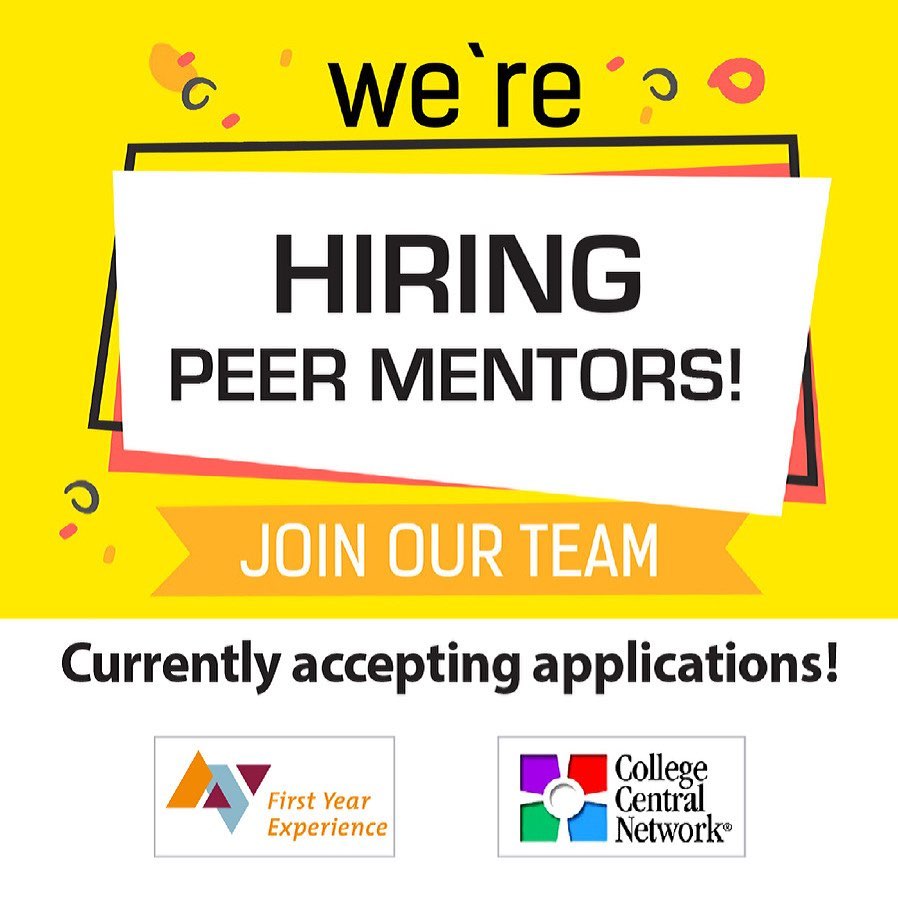 Standard Student Expectations:
Enroll as a full-time student, >12 (No withdrawals or repeats) This is required to receive Promise Tuition Assistance
Completed a minimum of 24 units in the first year (30 to Finish in 2 years)
Actively participate in the Peer Mentoring program (Minimum of 8 peer mentor meetings per  semester)
Visit the Learning Center to participate in Tutoring and other Academic Success Workshops & Activities (Minimum of 4 per semester)
Meet with Transfer Center Counselor for and updated Comprehensive Education Plan
Actively participate in transfer specific workshops (Minimum of 4 per semester)
Apply for graduation evaluation
Attend Commencement and applicable graduation celebrations

SYE students will have access to the following benefits:


We are located in T-700, Suite F.

Due to COVID19, College programs and services are being administered primarily remote with online virtual tools. Limited in-person appointments can be made via the Student Services Request for Appointment Form. 
Funding provided by Initiated with funding from U.S. Department of Education Title V HSI Grant and the California State Initiative AB 2 Program.